News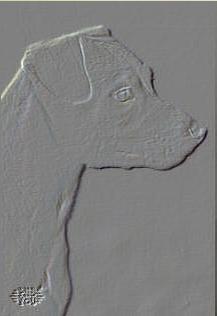 News dating Jan. 2008 - Aug. 2010
********
Terrier Splash was a Blast !!!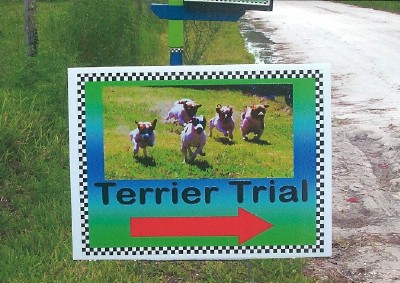 It was great to see Crystal & Zig Zag, our Tink's
brother & Mid Fl's Lisa with her Pit & Christy with
her American Hairless. We also had a group from
UKC;Donna with her JRs, Kathy with her Rat Terrier
& Tammy who helps me show the Patterdales.Tammy
plans to compete with her American Hairless soon.
Son won GTG in his division & Rebel won second in
GTG in a very large Veterans division.Tink got her
first look at quarry in GTG. She was too young to
compete but negotiated the GTG for training.
The potluck dinner was super delicious !!!!!
Thanks to Melanie,Frannie, Pauline & everyone
who made this trial possible.
*******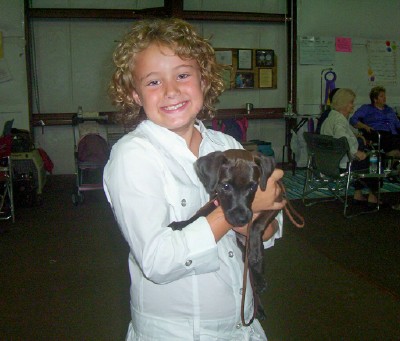 Billie Green with Tink at HAAHTA
I have known Billie's grandmother for
years & we reconnected at Premier.
Billie is already an accomplished handler
with many Breed wins to her credit. Here
she is shown helping socialize Tink.
UKC Premier
was
Icredible !
Pictures are posted on the
the Premier page.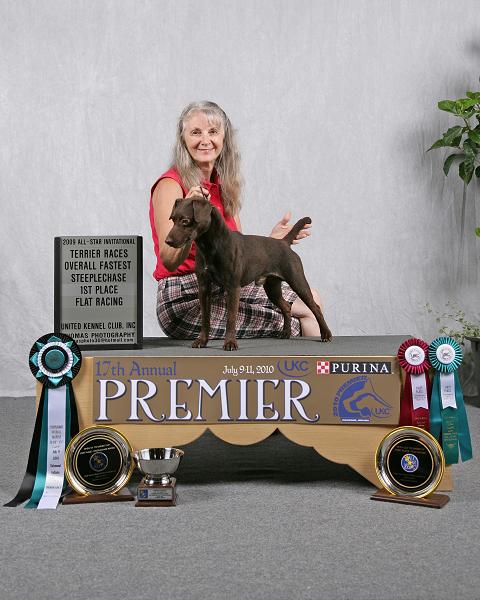 Photo by Thomas Photography
Rebel won the Invitational for the 2009 Racing
Allstars Steeples 12 1/2 - 15 over all breeds.We are
are very proud of him for this accomplishment !
He also placed first in the All Stars Flat Race.
It was great seeing Bruce & Diane from MI &
Jason & Cathy from CA,with their Patterdales.
Congratulations to Tara on her Top Ten win &
to Jet on going Breed on Sunday !
Bruce's Elzinga's Aidrian won the BOB award
donated by Fox Briar Kennel.Thank you Bruce
for your very nice note !!
********
Pensacola has the " Redneck Riviera ".......
here at Fox Briar we have the " Patterdale Riviera " !
Rebel at the " beach " enjoying
a splash in the pool.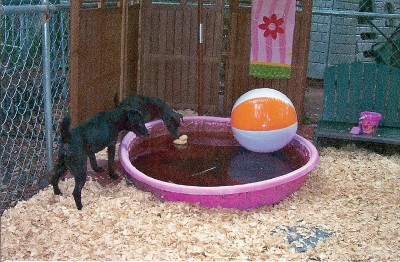 Teg & Beau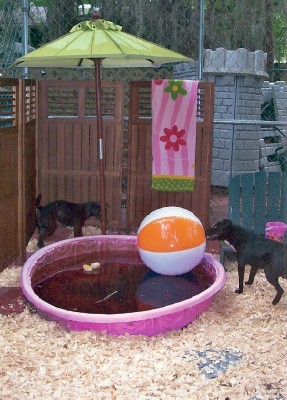 Teg & Beau
*****
Summer's hot & the living is easy.......
We are back on the road again for the
summer circuit of shows & trials.
SSTC Summer
All Terrier Trial
This sign was posted as we entered the trial site (right).
Fox Briar rig coming over the bridge ( left ).
We really did not think we had to worry about this
road hazard warning for the summer !
****

Fox Briar Rebel Son

GTG Champion

Under Adults

Fox Briar Rebel Son

GTG CH

Adults Under

Fox Briar Rebel

GTG CH

Veteran Over

****
*****

Bronwyn

GTG CH

Veterans Under

Badakhshan Bronwyn

GTG CH

Veterans Under

Badakhashan Tobias

Racing & GTG RS CH

Veterans Under

Badakhashan Tobias *

Racing & GTG

Rs CH

Veterans Under
This Terrier trial was an open performance
trial open to all terriers under 15 ".
There were no separate colored terrier
classes which we liked because it presented
our Patterdales with more of a challenge.
We were very pleased with our dogs' success !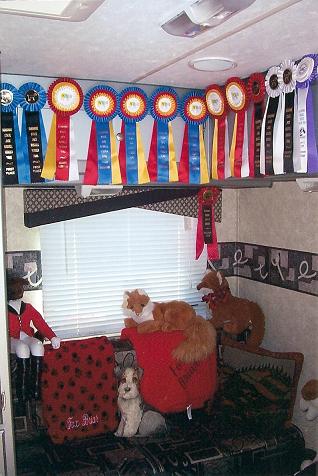 A " sneak peek " into our home away from
home for the duration of our time on the road.
Some of our rosettes decorate the interior......
and of course our signature red & black colors !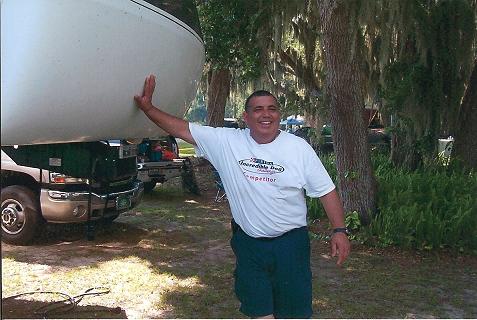 Hugo holding up the RV !
It was good to see my old friend Hugo Noah again !
Hugo & I have been competing in these terrier
trials together for over 20 years !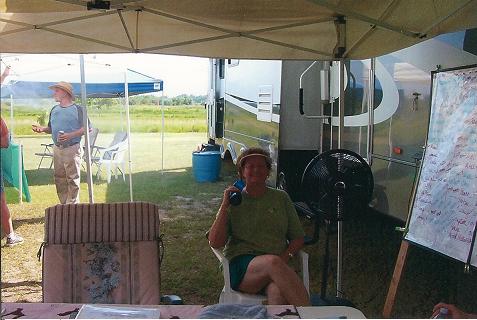 Donna " chillin' out " under the mist tent !
**********
" Beau Blood Prevails at Nationals "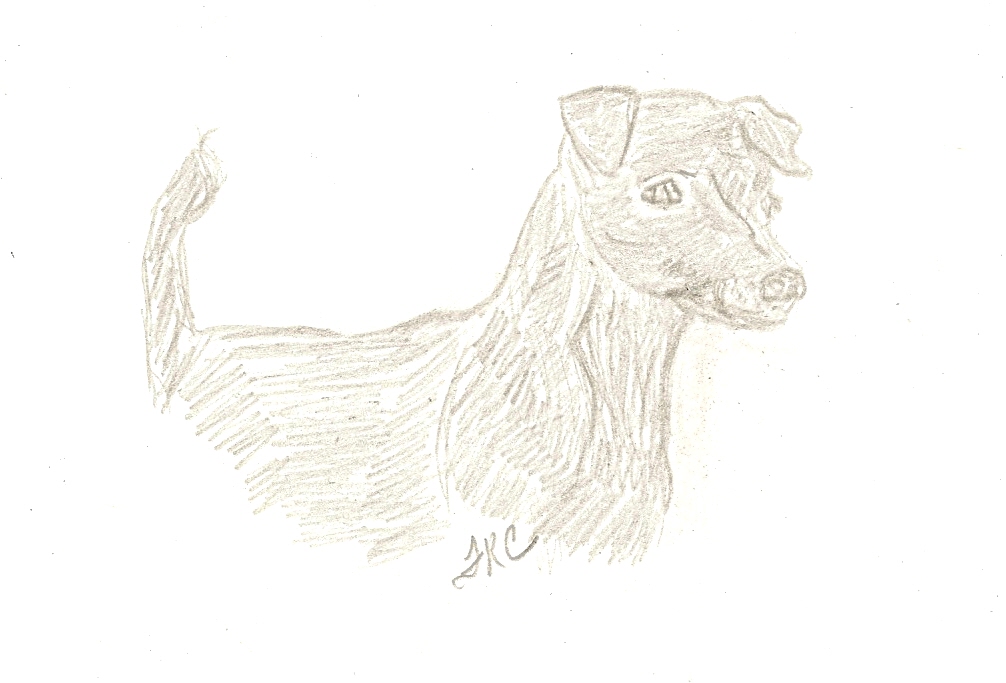 Tara
The deck was stacked against her,with 9 Anglo -
American entries,and 3 others,but one little black
bitch " Tara ", gave them the old "one - two "&
prevailed in the end,to win the 2010 PTCA National
Champion title !
This is the 2nd year in a row Tara emerged successful
in her quest to become National Champion.Last year,
in her home state of CA, she won 2009 PTCA National
Champion Puppy and 2009 PTCA National Champion.
Tara also won the TNTO Colored Terrier Champion-
ship,Champion of Champions,Judges Choice,&Perfor-
mance Champion(s) in TN this past weekend.
Owned by Cathy Thomas ( Oakleaf ) & bred by Jason
Crociana ( CMC ), CMC's Tara the Terror of Oakleaf,
traces back to our original stud dog, Badakhahsan
Beauregard bred by Fox Briar ( aka Badkhashan ).
GREAT BLOOD LIVES ON THROUGH PROGENY !
As Oakleaf's site aptly proclaims , "Success Is the Best
Revenge ! Congratulations to Tara, Cathy,Tiffany &
Jason on your phenomenal success ! To read more about
Oakleaf & CMC go to our links page.
" Just the facts m'am...nothing but the facts "......
Joe Friday * Dragnet quote.
**********
" Visions "
Our Journey has been Fabulous !
2009 has come to a close & we are on
our way to achieving new goals in 2010 !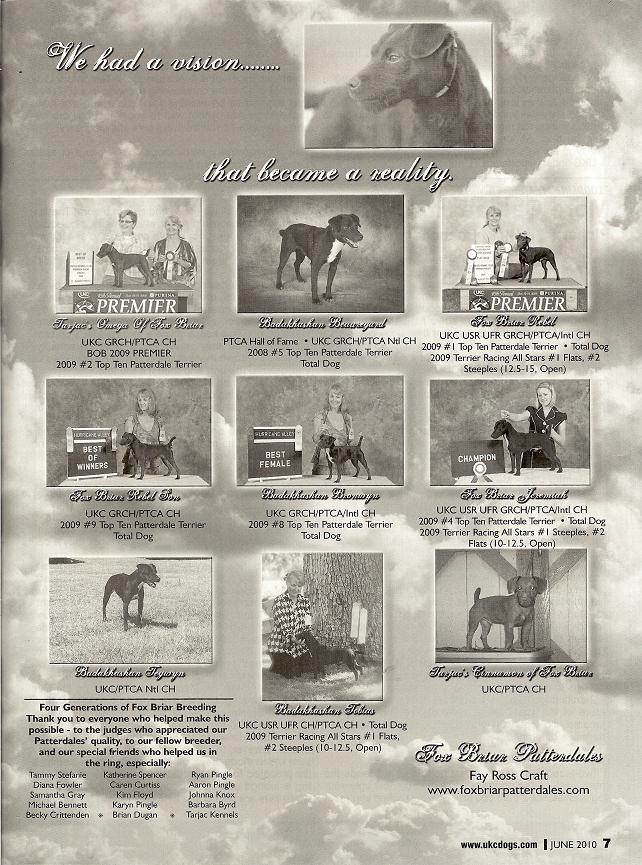 Bloodlines Ad * June 2010
*******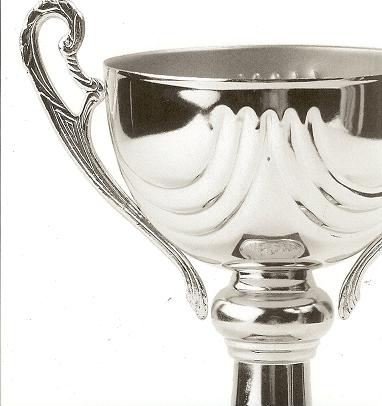 UKC shows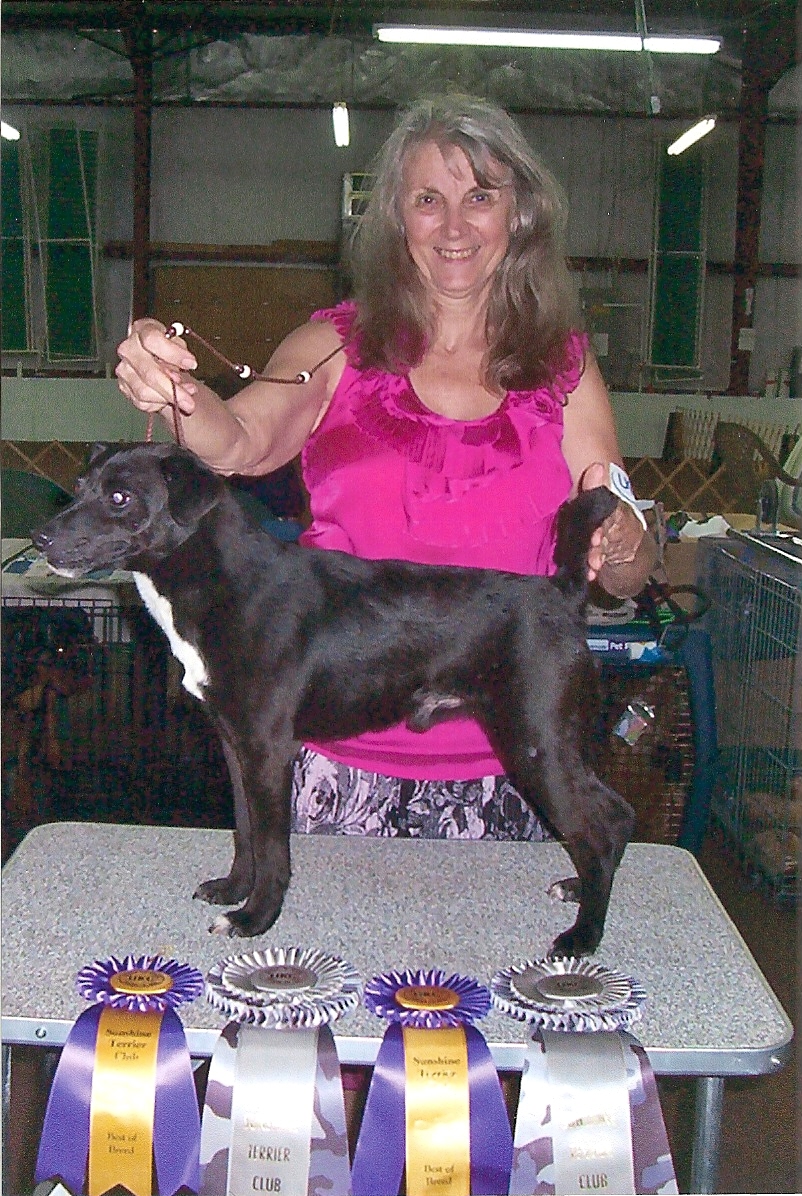 Beau * BOB *
Thanks Tammy !
UKC Top Ten # 1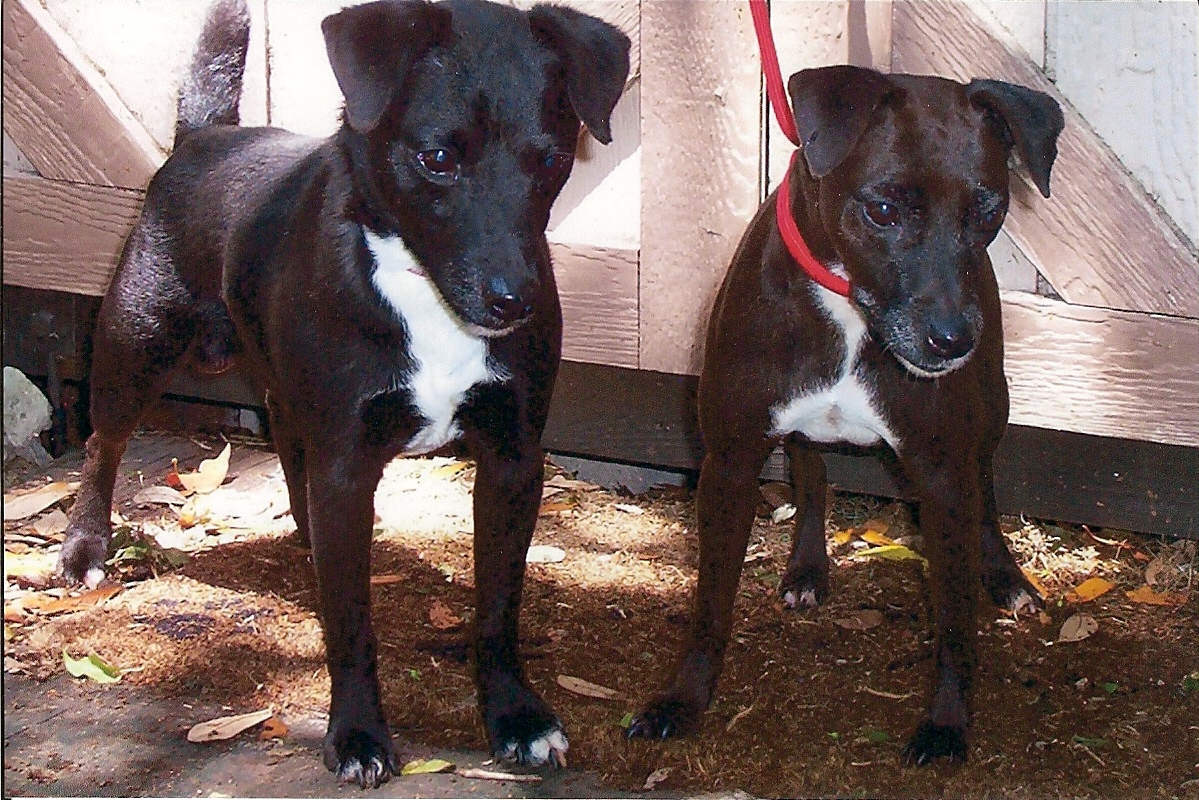 Happy Tenth Tegwyn & Beau !
***
Best of Breed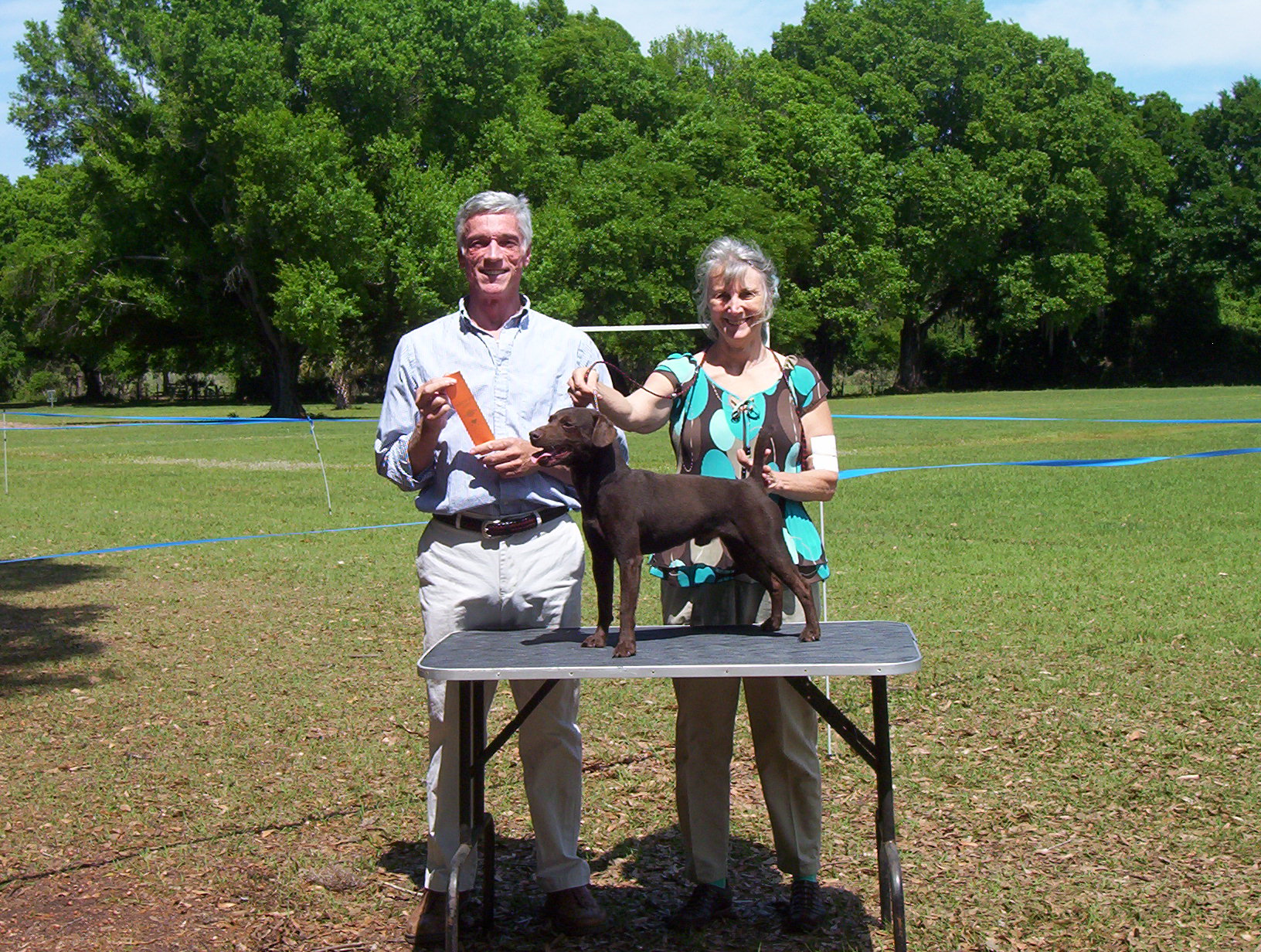 Fox Briar Rebel winning Best of Breed
under AKC judge Zell Von Pohlman.
After having earned the recognition of being
the Number 1 UKC Patterdale for 2009 we
are exploring new venues with Rebel.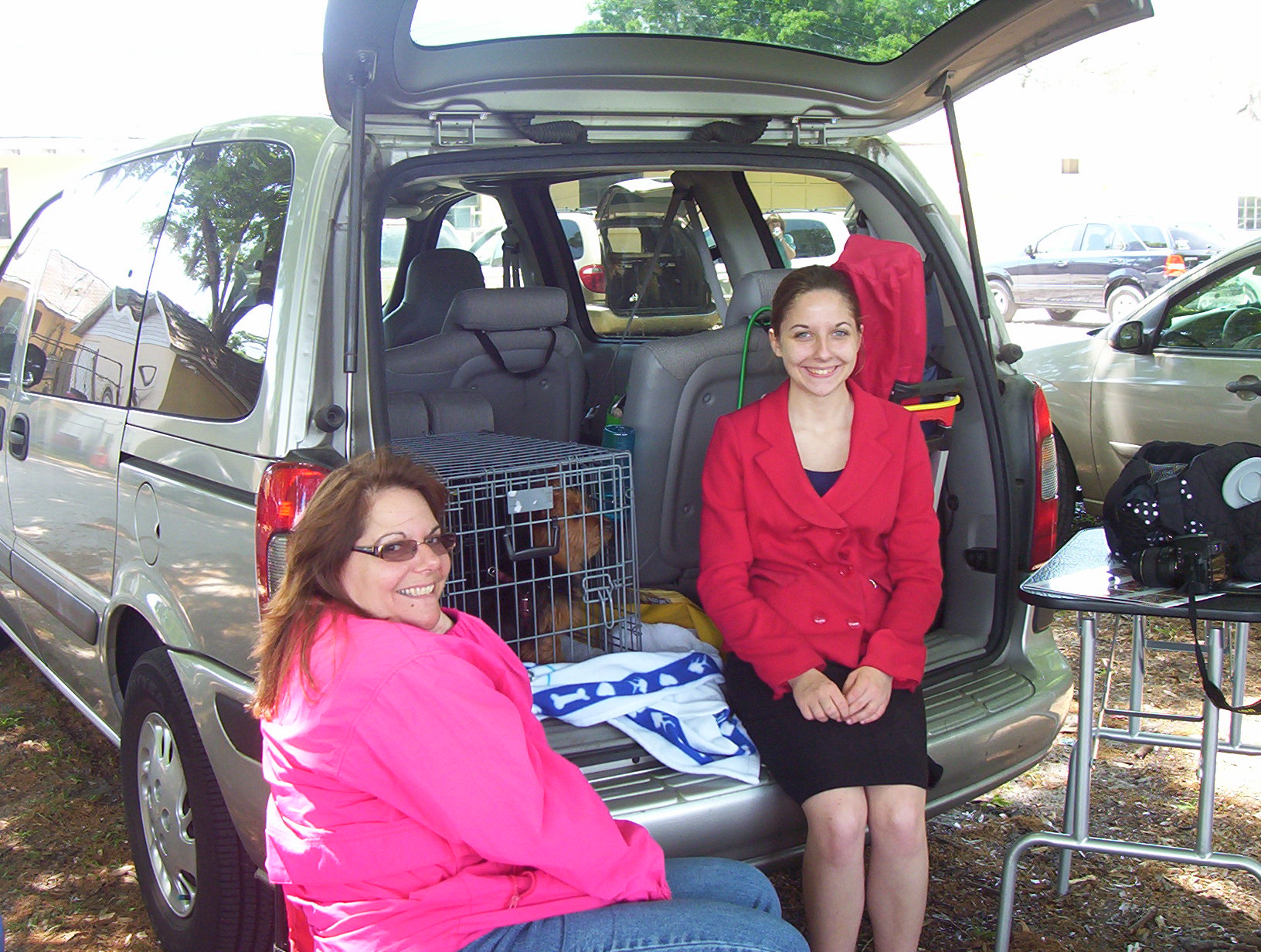 Jr.Handler, Christina Worley, above who helped us handle
our Patterdales at the HCDF show. Thank you Christina !
Scenes from the show
Mrs.Clark with her BIM
Norfolk Terrier Puppy , above.
The showgrounds & exhibitors , below.
" Rebel "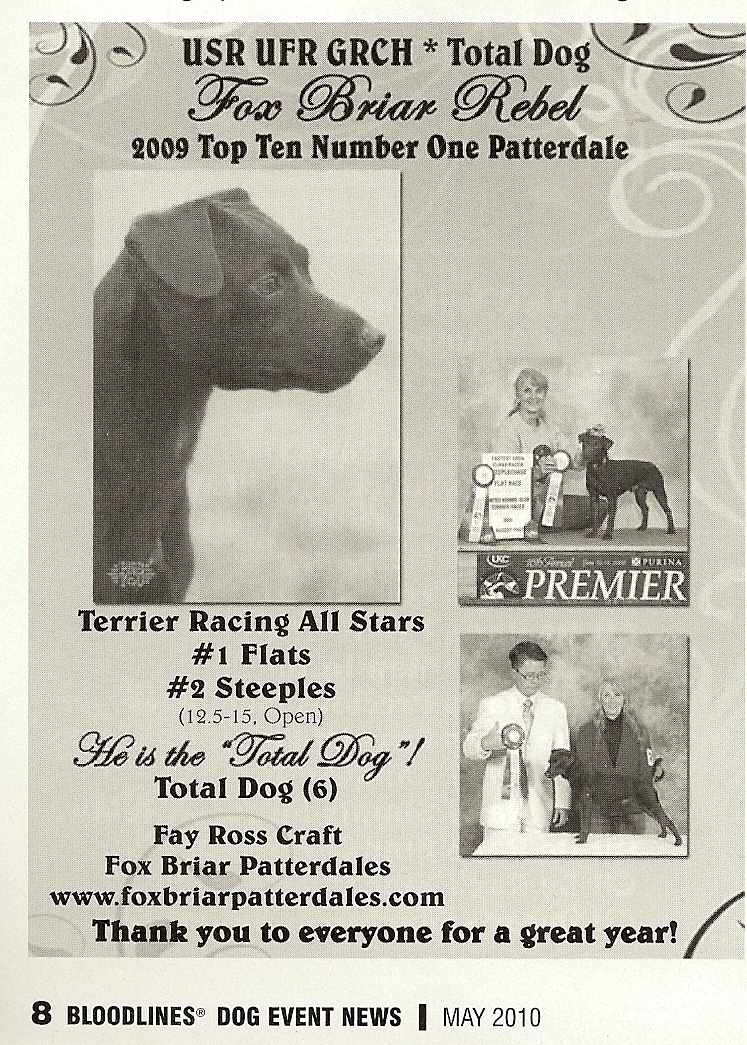 Bloodlines * May 2010
Brazilian Terrier Magazine
This Patterdale article recently appeared in the Brazilian
" Terrier " Publication featuring Rogue & Rosie. They
were exported to Brazil & were from Fox Briar's line.
********
GTG Champion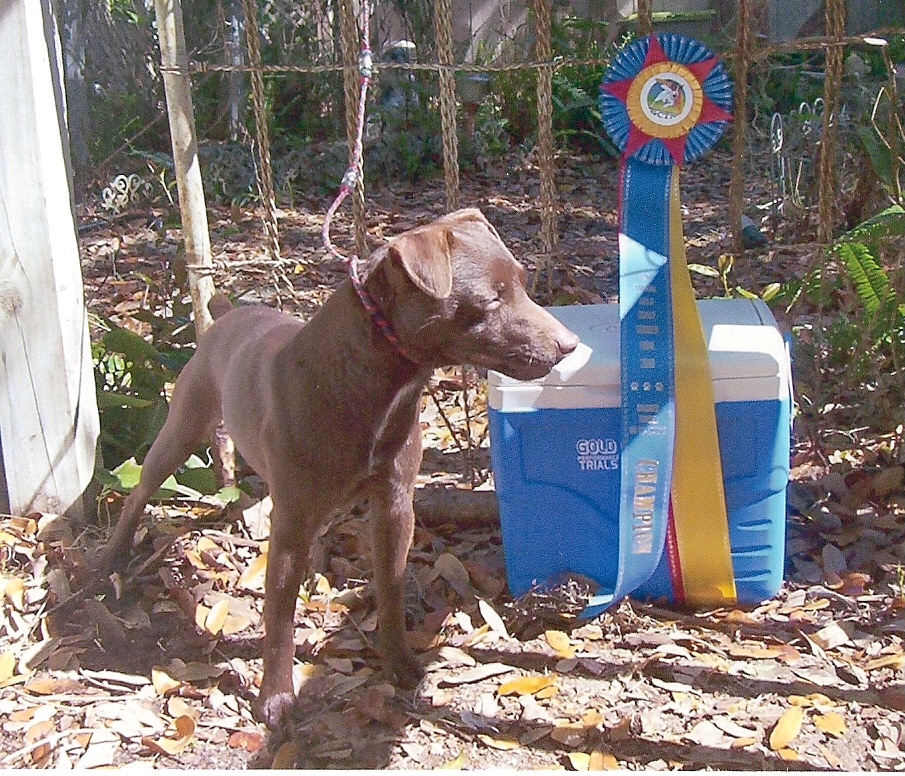 Fox Briar Rebel Son was the GTG CH
at the GCTN Performance Trial * Feb. 2010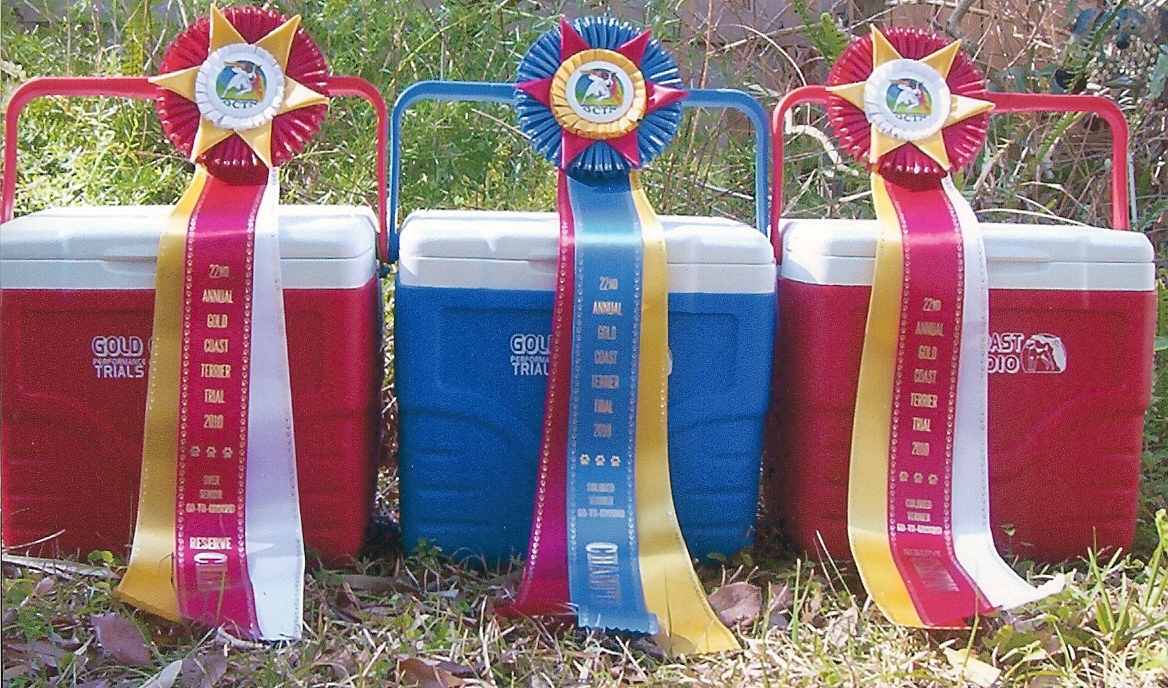 Some of our super Championship prizes from the GCTN Trial 2010
Thank you to Lisa McKinney & Gold Coast for another great trial !!!!
We are looking forward to 2011 Lisa !
UKC Grand Champion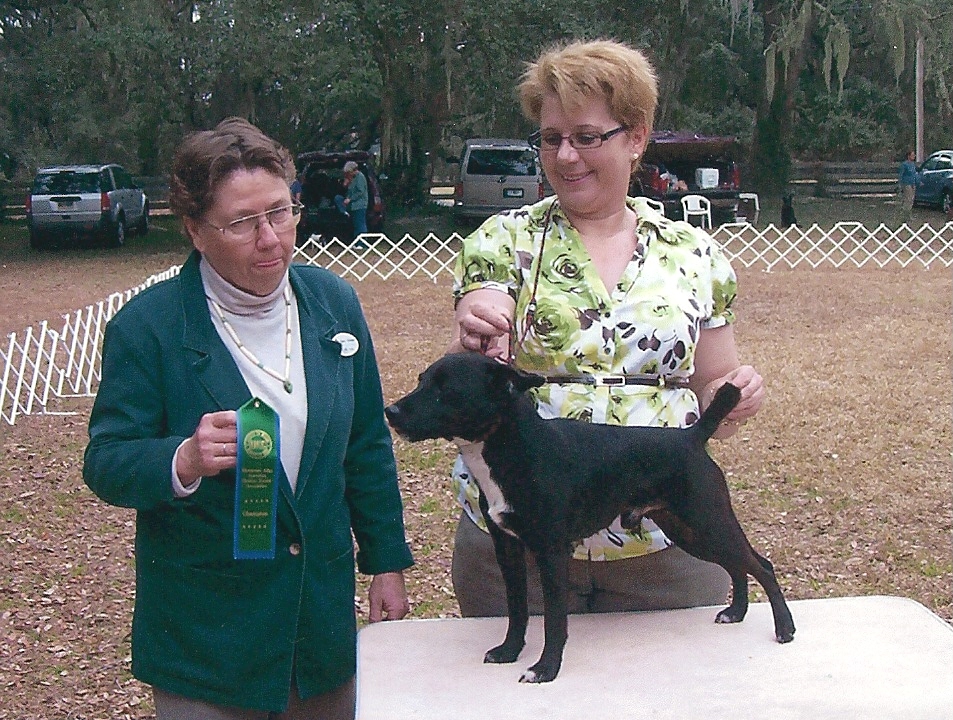 Beau winning his UKC Grand Championship under
judge Nancy Fishinger * Handled by Tammy Stefanie.
There are not enough words to express my gratitude for
all of Tammy's help ! She is always there with a smile
& willing to show the Patterdales.I could not ask for a
better friend .......or a more talented one !
Thanks Tammy !!!!!
Patterdale at Work
Here is another new activity/career that a Patterdale
of our breeding is engaged in :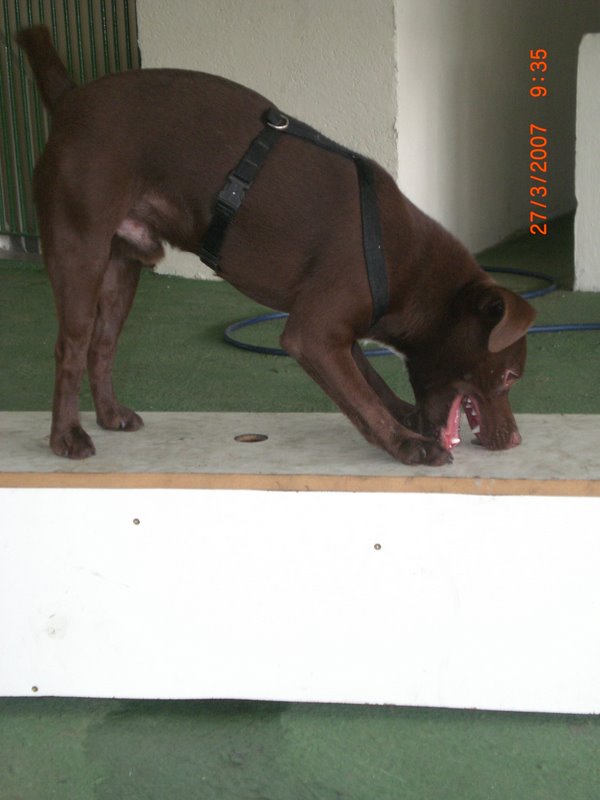 This is Del Manto's Toddy in Brazil who has been trained as a Drug
Detection Dog for the police (bred by Canil Del Manto in Brazil).
To my knowledge this is the first Patterdale
to be trained in this line of work.
We are so excited to see the Patterdale being used
in such a unique way . Never underestimate
the capabilities of your Patterdale !
Happy Birthday Omega !!!!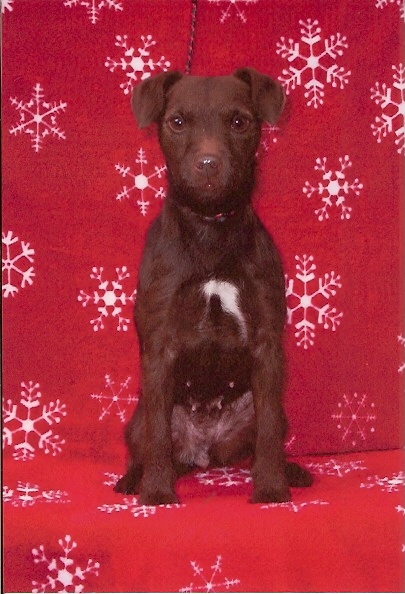 Age 3 !!!
********
Fox Briar Rebel is the UKC
Top Ten #1 Conformation
Patterdale in the Nation
& the UKC All Stars # 1
Flat Racer for 2009 !
Rebel is an outstanding representative of
the Fox Briar line. He embodies the traits
necessary to become a UKC Total Dog.
Rebel descends from our Nuttall
foundation bitch Poorhill's Shanty.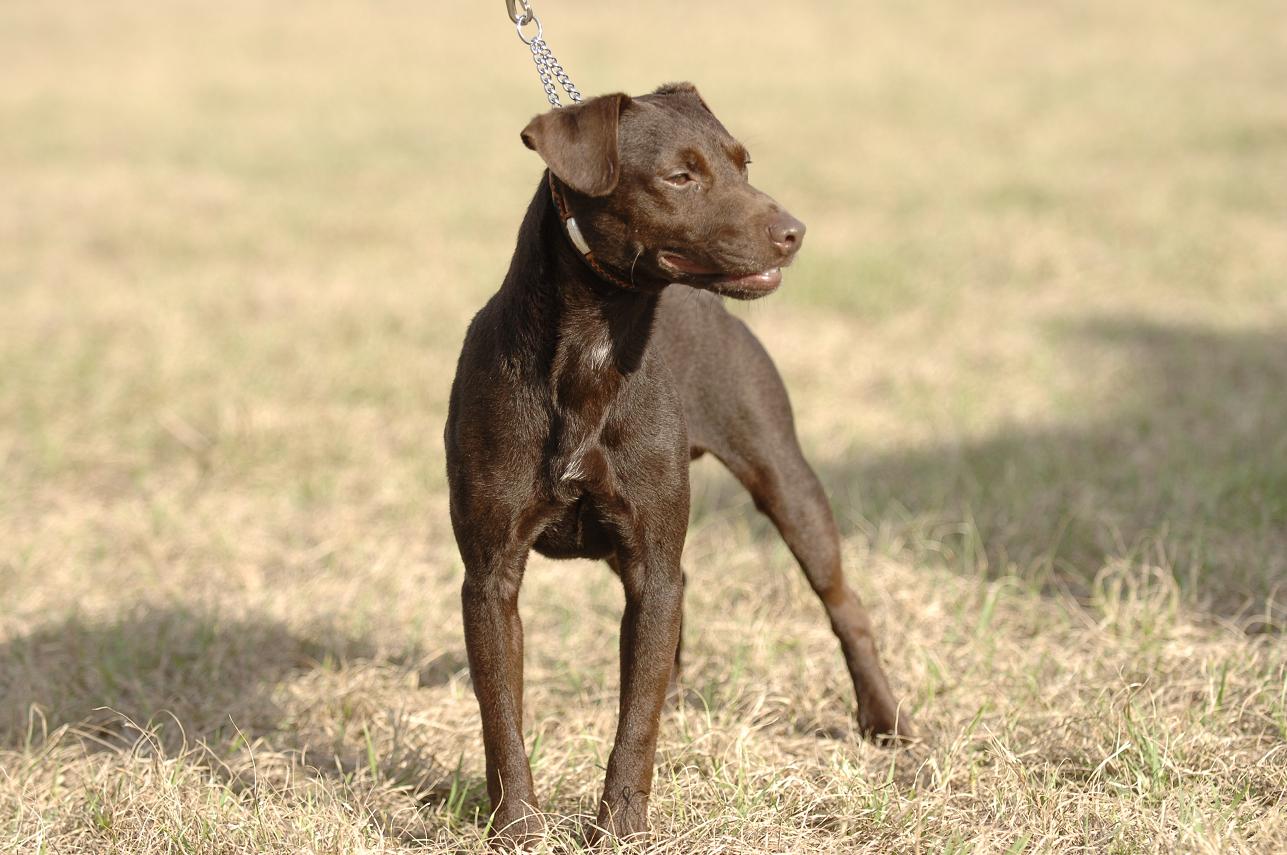 UKC UFR USR GR CH Fox Briar Rebel
Congratulations
to
Badakhashan Tobias
on earning his UKC & PTCA
Championships in Conformation !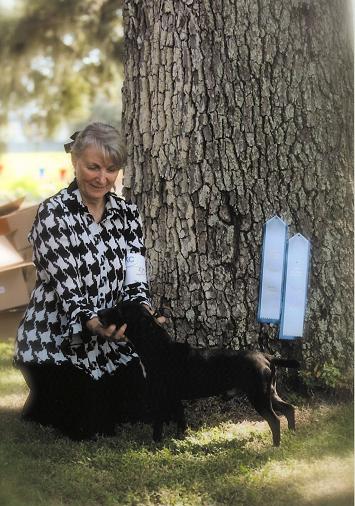 " Bias "
CGC Title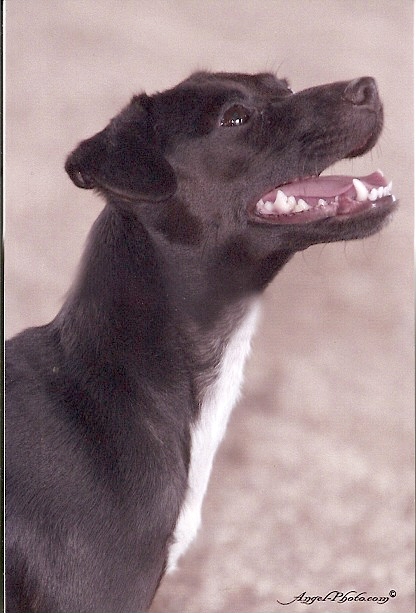 Angel Photo
Bronwyn has added another Title to her profile.......
Nov.21 she earned her CGC Title ! ...our 1st CGC
certified Patterdale.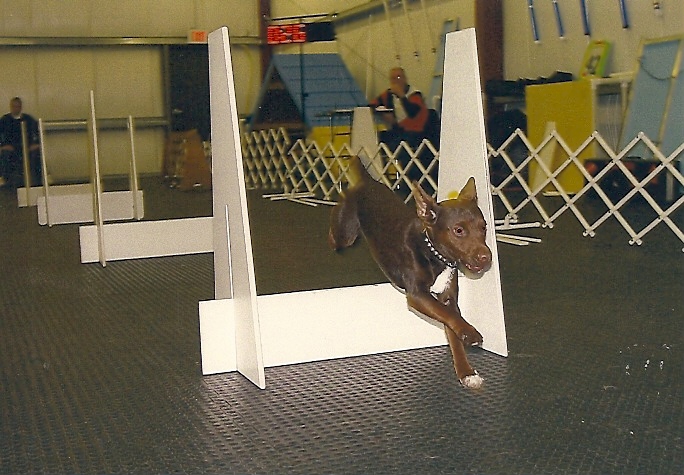 Valentino pictured as a pup during Fly Ball Training
CONGRATULATIONS
to
Fox Briar Valentino
&
Robert Viereck
on their recent 1st place wins in UKC
Racing & Weight Pull in Connecticut.
******
CONGRATULATIONS
to
Badakhashan Nutmeg
on her UKC CH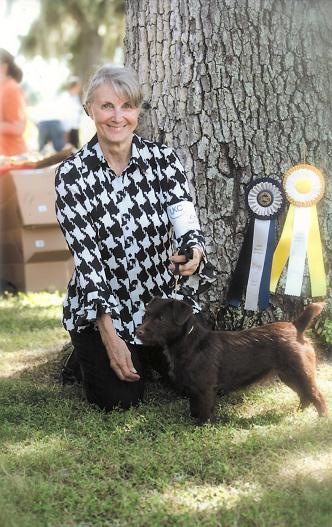 Nutmeg & Fay * Photo by Rose Photos
I am so proud of Nutmeg who came out of retirement to finish
her Championship under judge June Pasko, from the BH class.
Nutmeg also won Best of Breed & Gp III the same weekend
under judge Rowdy Yates.
** Nutmeg adds her UKC CH title to her Intl CH title
& her PTCA title earned in 2004. **
******
CONGRATULATIONS !!!
to
CMC's Tara the Terror of Oakleaf
owned by Cathy Thomas * Bred by CMC
on winning National Champion
PTCA Nationals * CA * 2009
from
her great great grandsire
Badakhashan Beauregard & Fox Briar
&
to
Linruff's Got It Hot
owned by CMC * Bred by Linruff
on winning National Rs Best In Show
from
her grandsire
Badakhashan Beauregard & Fox Briar
HOF PTCA National Puppy CH / UKC CH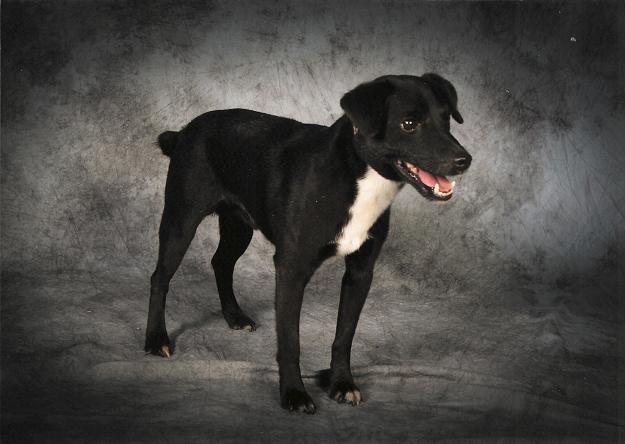 CH Badakhashan Beauregard COG
pictured at 9 1/2 years of age extends his congratulations to Tara
and " Cyra " on their PTCA National wins !
******
RS Best In Show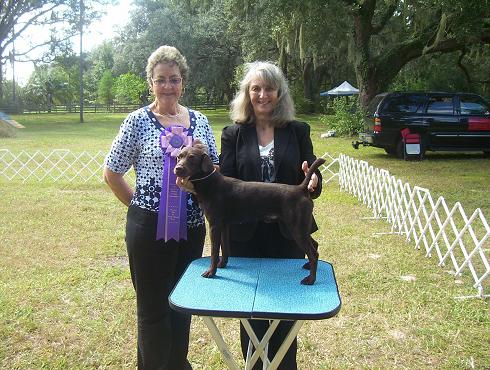 Thank you to Judge June Pasko for awarding
GRCH Fox Briar Rebel BOB & Rs BIS !
******
Best In Show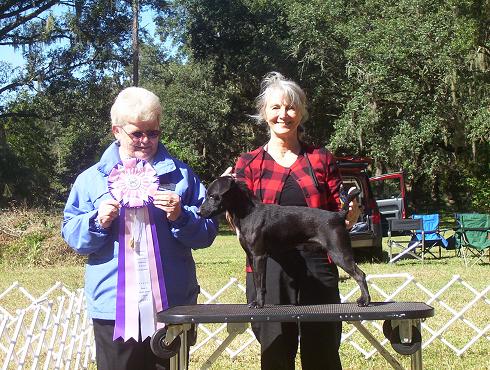 Fox Briar Jermiah * Best In Show * BOB * New GR CH
Thank you Mrs.Lambert for awarding these wins to
" Miah " to accomplish these goals.
Blessing of the Animals * Oct.4, 2009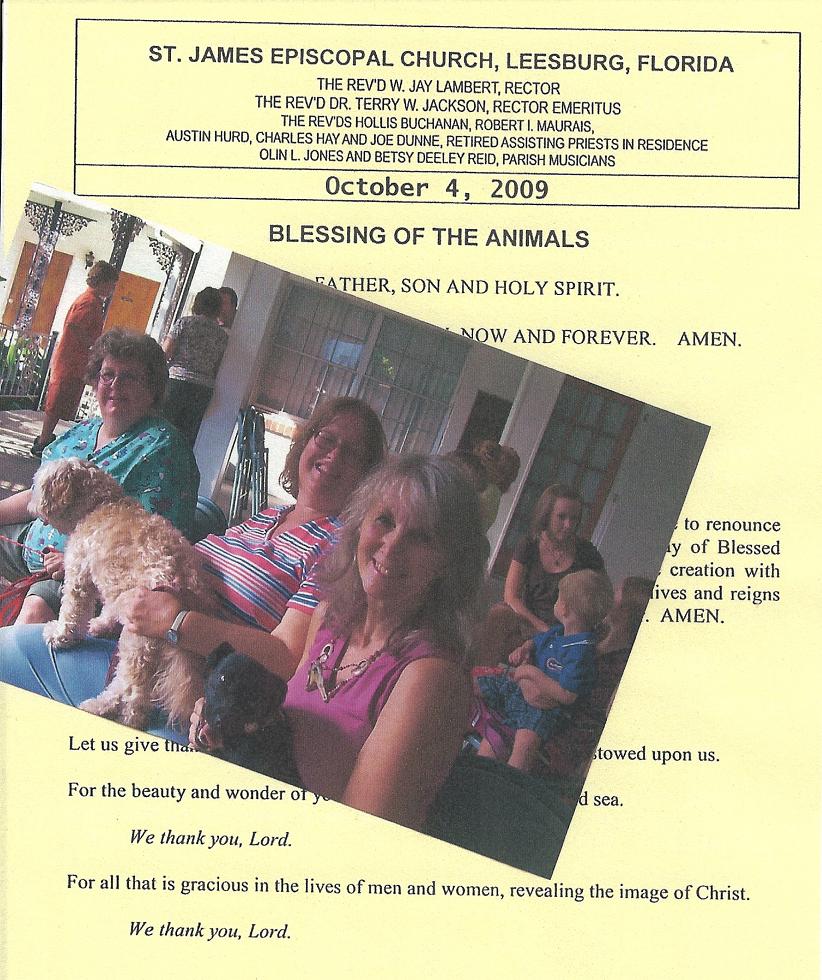 Badakhashan Bronwyn & Fay at the Blessing of the Animals
This was a spiritually moving experience.We had never attended
a blessing of the animals; it gives you a feeling of great connection
to your canine companion. Bronwyn was so "polite" during her
blessing as if she sensed it was a special moment.
| | | |
| --- | --- | --- |
| | | St. James * founded 1885. |
| | | |
| | | Blessing the canines on St. Francis day. |
| | | |
| | | |
St.James..... pretty as a picture postcard landscape...deep in the South ...
Century old Oak trees draped with hanging Spanish moss & Palm
trees take you back in time....founded 1885.
Dog World Feature
We were honored to have our " Omega " featured in the October
2009 issue of Dog World's Patterdale Terrier profile ! See her on page
41 as well as in our ad on page 73.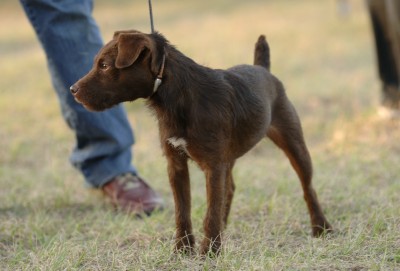 Photo by Pics of You
UKC GR CH / PTCA CH
Omega owned by Fox Briar
Excellence in Competition
Bloodlines * Sept.2009
Best of Winners & Best Female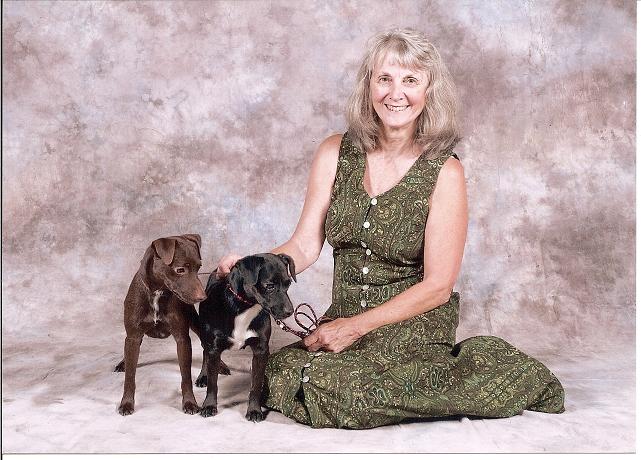 Thank you to Gerry Chen for the wonderful photos of our Patterdales.
Gerry has been photographing our dogs over the past year
& we have displayed many of them within our site.
| | | |
| --- | --- | --- |
| | | |
| UKC GR CH * Fox Briar Rebel * Sire | UKC CH * Fox Briar Rebel Son | UKC CH * Badakhashan Bronwyn * Dam/Grand Dam |
* Reflecting 3 Generations of Fox Briar Breeding *
UKC Premier * 2009
Premier was GREAT !!!
Visit the " Premier " page for scenes from the show.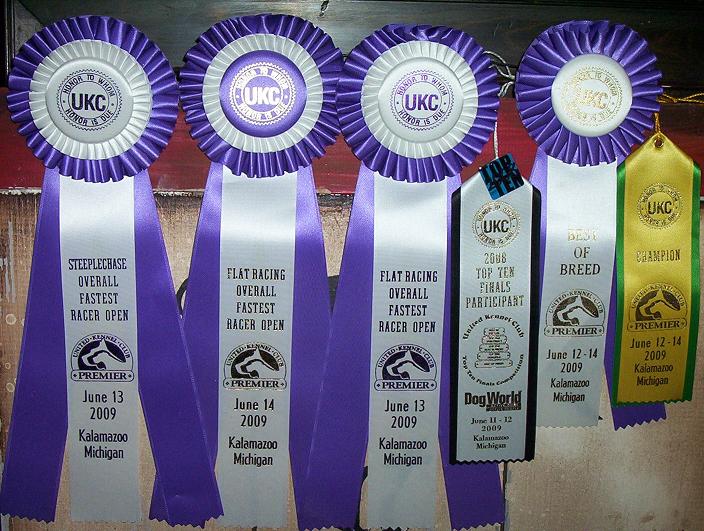 Our Premier Awards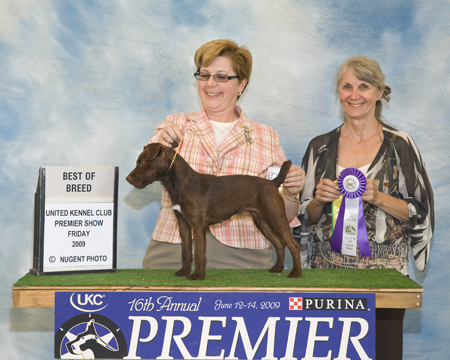 Photo by Nugent
Omega * Tammy & Fay
Group I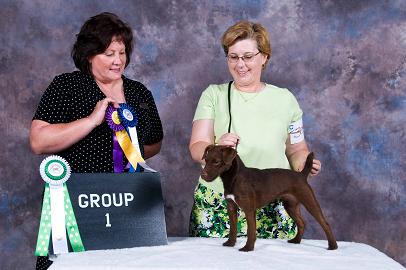 Photo by Gerry Chen
Thank you to Tammy Stephanie for
showing Omega to her Gp I win * STC Show.
Omega won two Gp I's this weekend in addition
to a GP II and a GP III & 4 BOB.
Best of Breed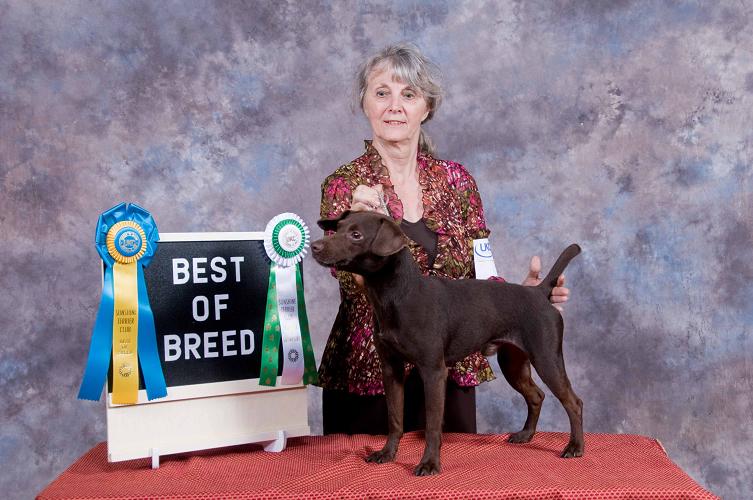 Photo by Gerry Chen
Rebel.....another BOB !
Rebel won two BOB awards
at the STS show.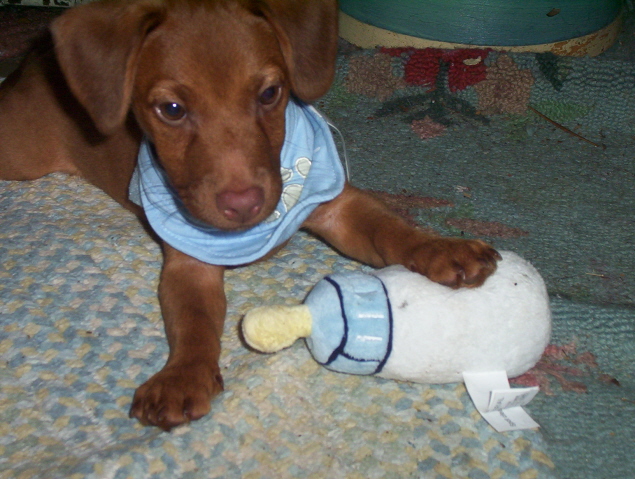 Cinnamon
taking a milk break !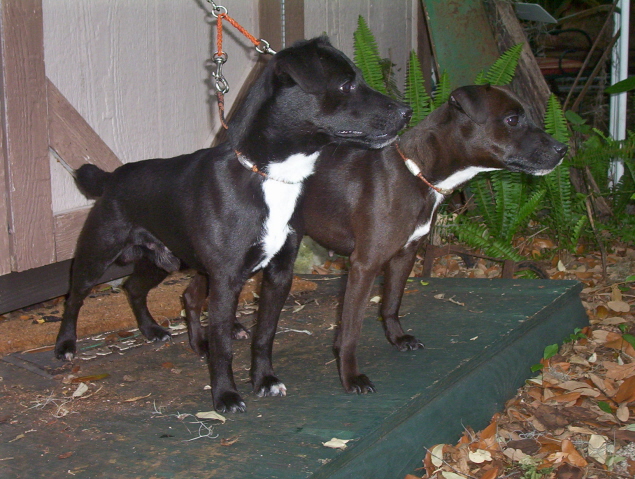 Champion Brother & Sister !
Happy 9th Birthday Teg & Beau !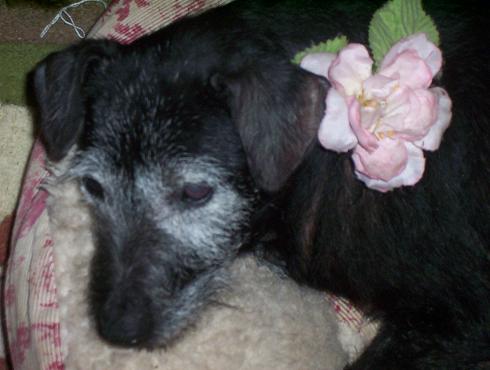 Happy 15th Birthday Shanty !!!! We have been
blessed to have you so long !
***
ORPC Trial * Veteran CH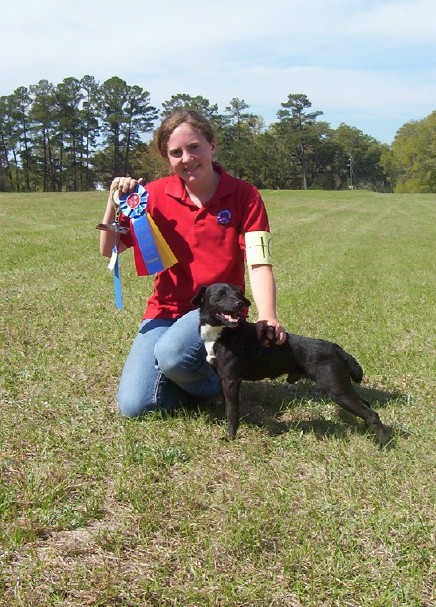 Thank you to Linsey Hollenger for showing
Badakhashan Beauregard to Veteran Champion
at the ORPC Trial !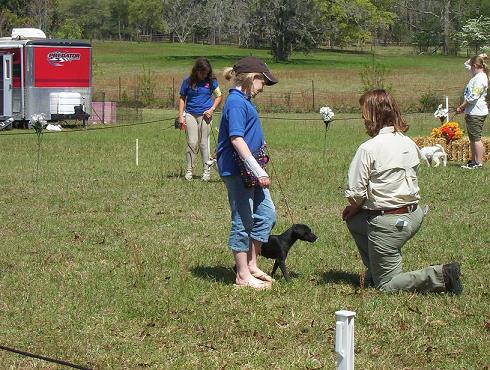 Judge Judith Stuckey " interviewing "
Blair Davis in Jr. Handler class.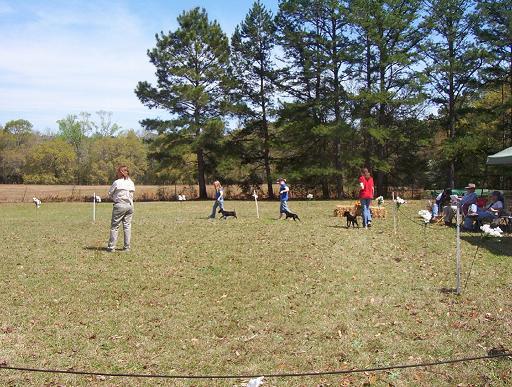 The three Patterdale handlers made the cut for Best Handler and Reserve !
Danielle with Tobias * Blair with Bronwyn & Lindsey with Beau.
This class was the BEST part of the whole show for me.....
seeing the youth with the Patts & doing it like professionals !!!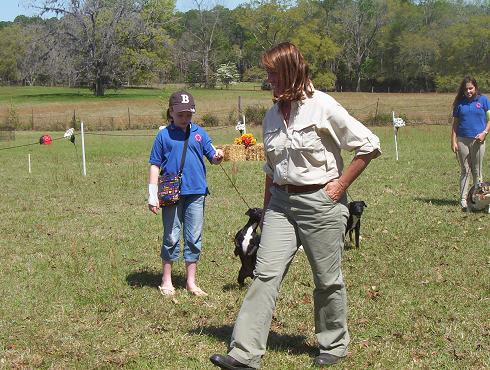 Bronwyn showing a little "terrier attitude " !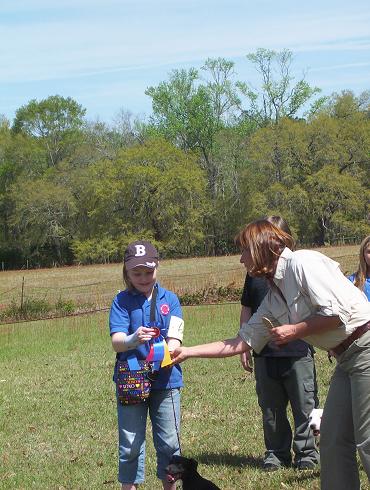 The judge has made her final decision and Blair &
Patterdale Bronwyn win Best Youth Handler !!!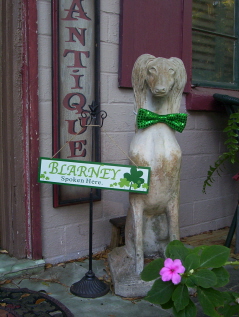 Happy St.Patrick's Day !!!
Wow ! What a Year !!
Congratulations to the top winning UKC Patterdales of 2008
Top Ten placings 1st - 6th Beau's progeny/Beau !! *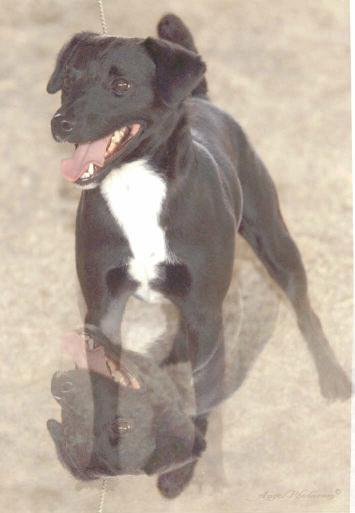 * Like a reflection of himself.........
Badakhashan Beauregard progenitor *
CMC's Mighty Mack of Dodgion * UKC # 1 Patterdale
( Great grandson ~ Dodigion )
Linruff's Got It Hot * UKC # 2 (tie ) Patterdale
( Grand daughter ~ CMC )
Lost Lake Flipper * UKC # 4 Patterdale
( Daughter ~ Lost Lake )
CMC's Heavy Metal * UKC # 6 Patterdale
( great grandson ~ CMC )
and
Badakhashan Beauregard * UKC # 5 Patterdale
( Sire / Grandsire/ Great Grandsire *Fox Briar )
" Beau earned his UKC championship in his first
4 shows,beginning his UKC debut at the ripe old
age of 8 ! In limited showing, he is the # 5
Patterdale in the nation in the UKC Top Ten.
Five of the dogs in the Top Ten are " Beau " blood.
This is such a tremendous honor.We are so appreciative
of all the hard work the owners/breeders of these Patterdales
have put forth to campaign their dogs.
We extend our best wishes ! Good luck at Premier !
* excepting Klaire who is tied for 2nd
Home for the holidays......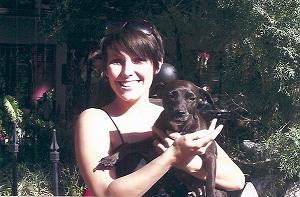 Brittany Hacker & Tegwyn.....home for the holidays
from the University where she is studying to be a vet.
Brittany has been an outstanding handler & trainer,
handling our dogs since she was just a tot !
*************************************************************************
Announcement :
Florida Earthdogs Club

Have a terrier ? Want to compete in Conformation or Go To Ground ?
Join the FL Earthdogs Club
ADBA sanctioned club whose focus will be on Education, Training & Competition with your terriers.
Contact :
Becky Crittenden
or
Fay Craft
********************************************************
Best In Show
Congratulations
to Samantha Gray
" Junior Handler Extraodinaire "
on her multiple BIS wins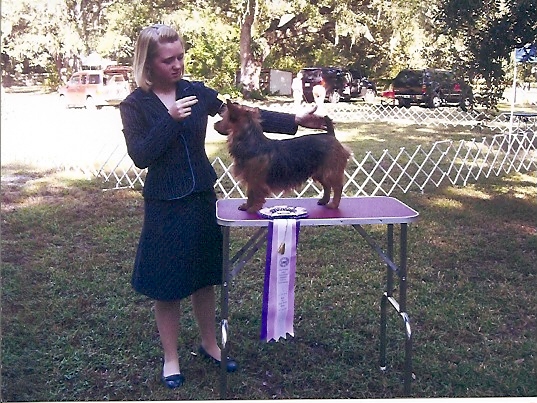 Pictured with her UKC BIS Australian Terrier **
AKC/UKC CH Kambara's Avatrix CGC UAG1
owned by Kim Floyd & Shown by Samantha Gray.
Pointed
We are forever greatful for Samantha putting his
first Championship competition points on Fox
Briar Jeremiah ! * Oct.2008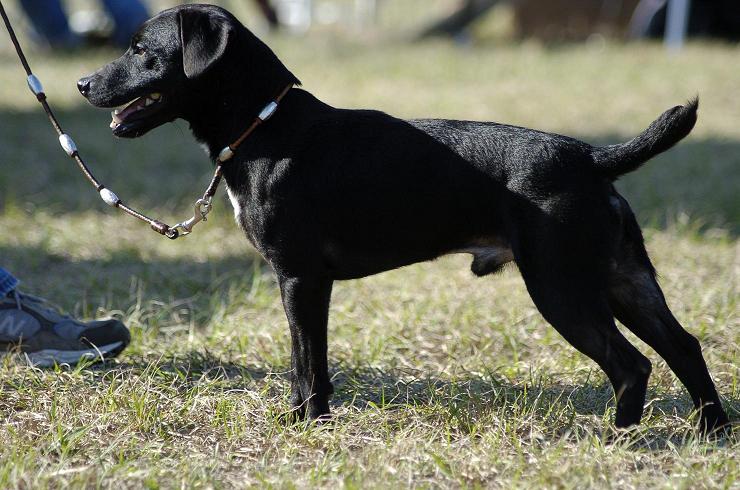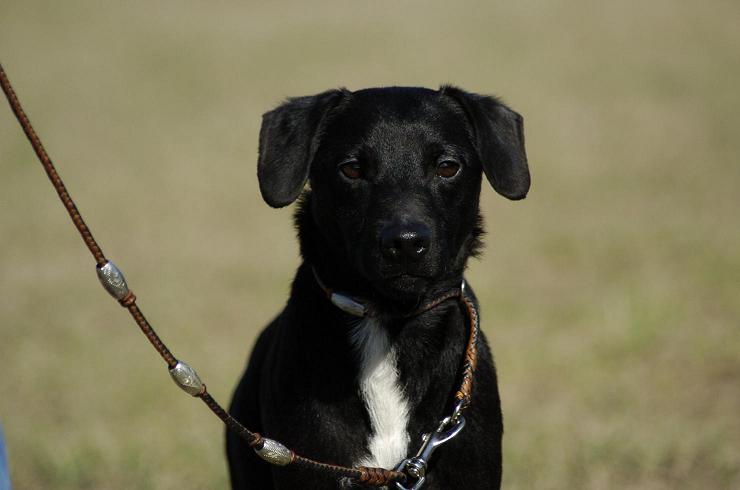 " Miah "
*****
Obituary
Deceased June 2008.
Sorry to hear of the passing of
Anglo American What A Shamus.
*****
New UKC Champion
Beau earned his UKC Championship * April 2008 !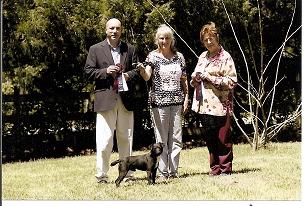 RS Best In Show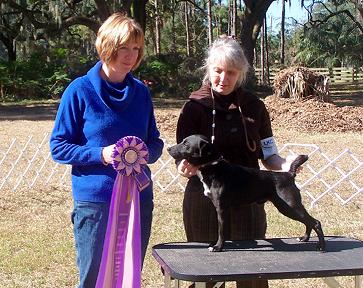 Beau RS BIS * AHTA * Feb. 2008
under judge Jillian Irving
Dreamin'.....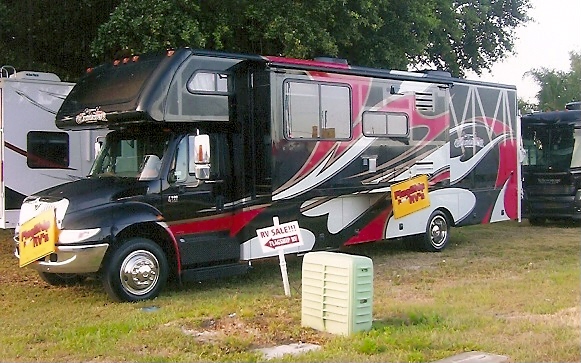 Wishful thinking.....our new motor home !
( in " our " kennel colors " )
Traveling & Competing
" On the Road Again " ......
Watch for the Red & Black troupe
at a trial near you ! Jan. 2008