News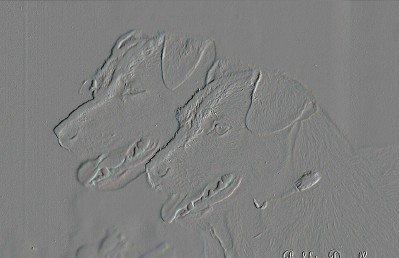 Page II
News dating after August 07, 2010
*********
News 2016
RIP Badakhashan Beauregard *** April 20,2000 - March 21,2016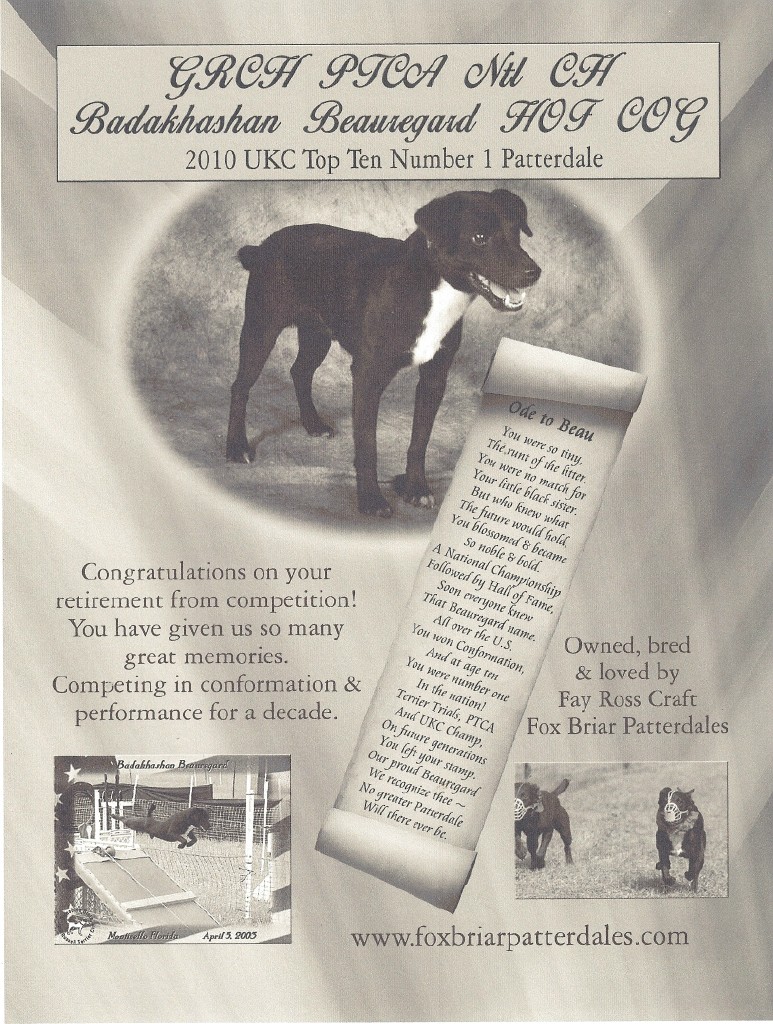 Gold Coast Terrier Network 2016
Another great GCTN Trial !!!!!!
We had a great time seeing all our old JR & Patterdale friends !
Our Patts were also successful in the events.
Conformation : RS Best Dog & RS Best Bitch *
GTG : CH Under 12 /12 * Son
CH Over 12 1/2 * Rosie
We also won ribbons in Racing & Costume.
After the raffle we joined Patt owners
Andrea & Jeremy Marshall &
Jen & Mick Miller for dinner at
Willard's. Great meal & enjoyable
company ! We can't wait until next year.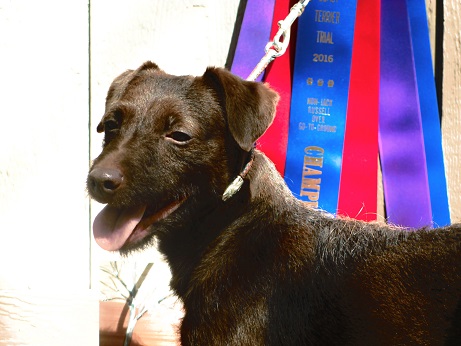 Over GTG CH * Rosie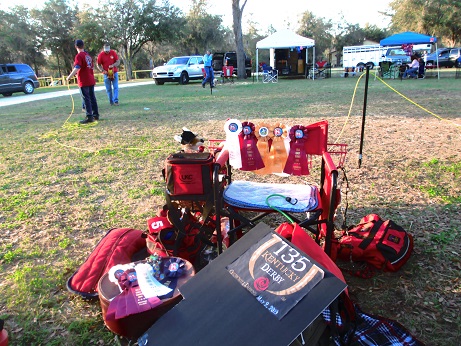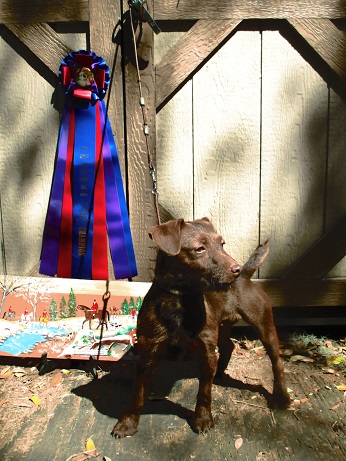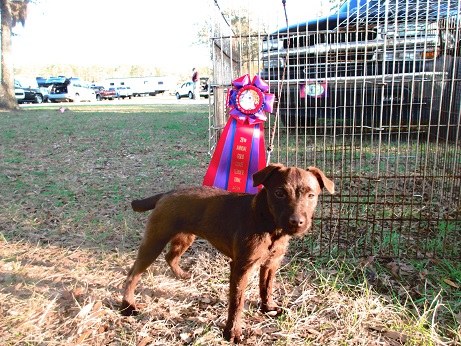 Non Jack Russell RS Best Bitch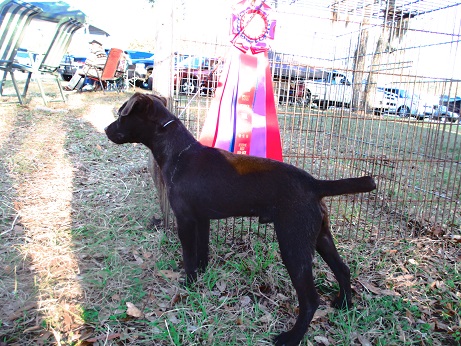 Non Jack Russell RS Best Dog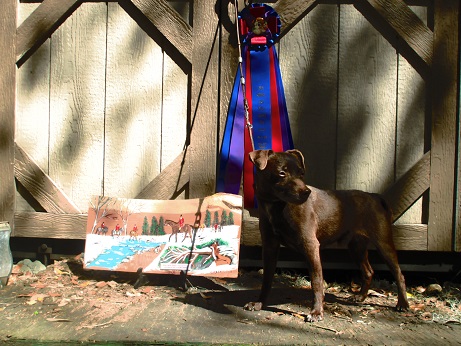 Under GTG CH * Son


News 2015

GCTN/SSJRTC Membership Day
We attended & participated in the annual Fun Day held at the Smith's.
The dogs practiced Lure Coursing,GTG,Racing & Brush Hunt, followed by lunch. We really enjoyed visiting with all our old terrier friends.

GCTN 2015
This is always one of our favorite trials !
Every year a new judge from Great Britian is invited to judge.
The exception being '05 when one of the judges hailed from Holland.
The judges are " real Terriermen " wh o work in the field.

Competition Results :
GTG : CH Under * Rebel Son
CH Over * Rosie
RS CH Over * Rebel
Costume * 1st * Rebel * Theme * "You Have to Kiss a Lot of Frogs to
Find Your Prince ".
We also had wins in Conformation.We did not race this year.




We have not updated our site over 2015.We will be going back & doing so soon as well as updating for 2016 !!! Thank you for your patience.

News 2014
Merry Christmas to all !!!
Happy Thanksgiving
from all the "foxy " critters
at Fox Briar !!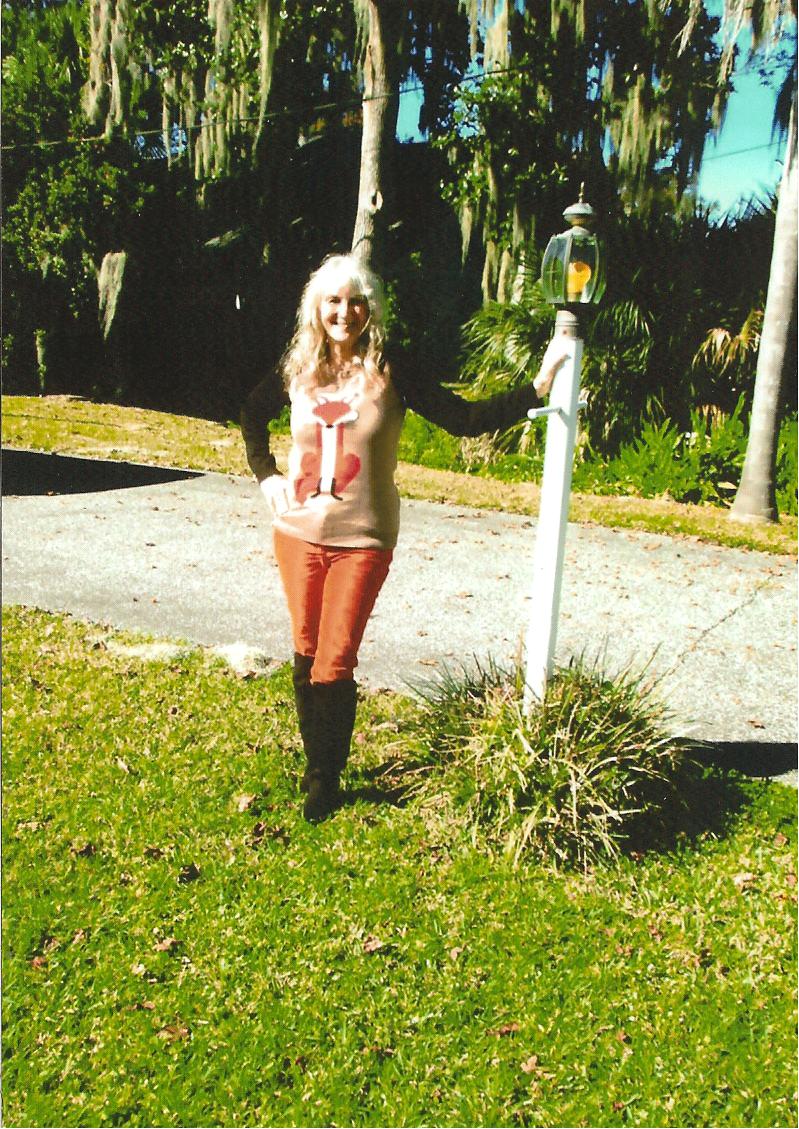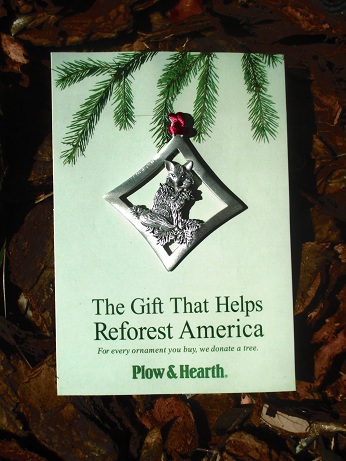 Here at Fox Briar we support causes
that benefit the environment.We purchased
our " namesake " fox ornament , in which the
proceeds will go towards donating a tree. If
you would like to support this cause go to
GGTN/SSJRTC Membership Day
Aug. 31, 2014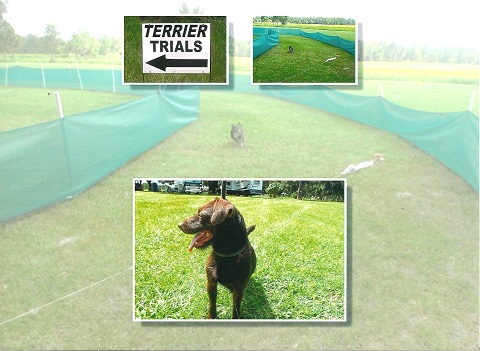 Rosie * 1st place GTG * Other Terrier Over
Tobias age 14 * Lure Coursing * He is so focused !
Thank you to our hosts : Debbie & Todd Smith &
to GCTN & SSJRTC for sponsoring this event !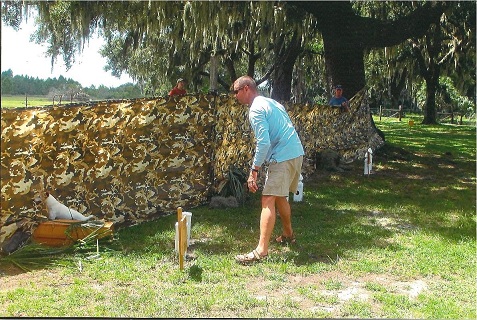 Todd* our host participating in Super Earth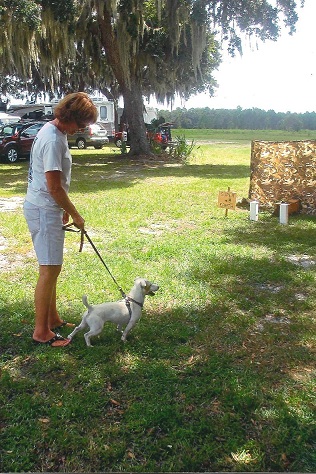 Debbie * Our hostess with Sydney
anticipating the Super Earth !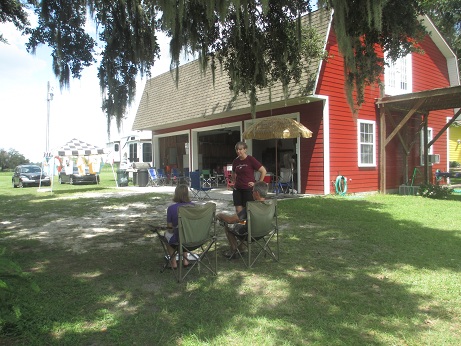 The site of the BBQ * The Big Red Barn
We have taken a break from
competition & have not participated
in any events since GCTN in Feb. due to
other commitments.We may be back out
in the Fall. Hope to see you then !
To our fellow competitors, " Good Luck ",
from Fox Briar Patterdales !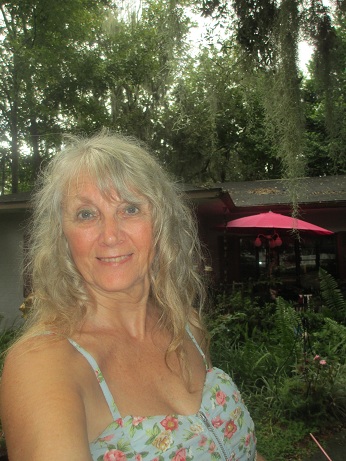 The FCSL is just one of
the "non dog "events we
have been supporting.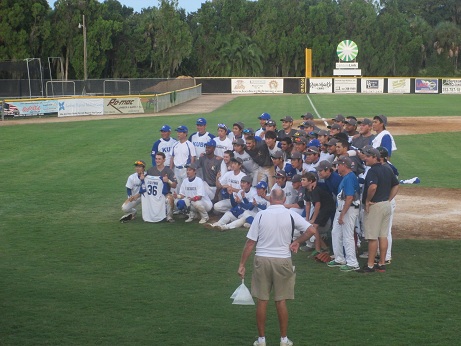 The FL Summer Collegiate Team
&
The Korean National College Team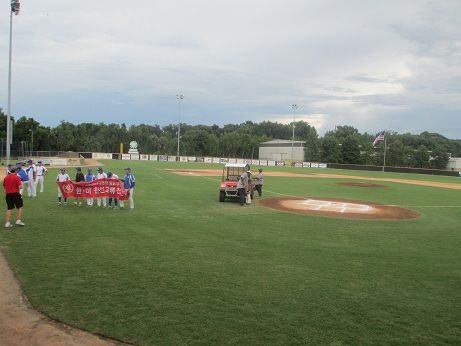 The Korean Team
I was presented with a "team " ball
signed by the Korean Team !!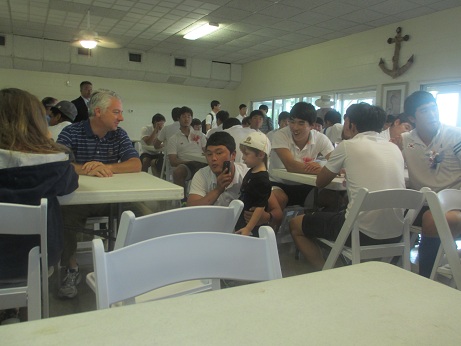 Meet & Greet * Getting to know the players.
The children enjoyed mingling with the Korean Team.
GCTN Trial * Feb. 2014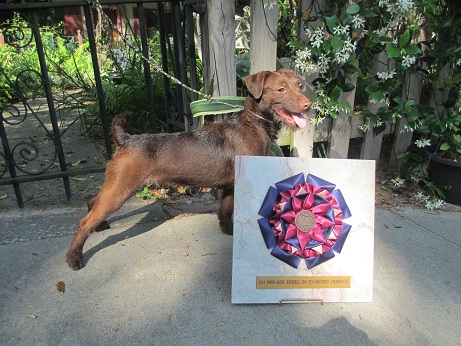 Non JRT GTG Champion
Non JRT Conformation CH *
Tarjac's Omega of Fox Briar
Rs CH * Fox Briar Rebel Son
Judge : Heather Cromwell
Paxton Kennels
**********
Non JRT Adult GTG CH
Rosie
Rs CH * Son
4th * Jeremiah
5th * Tobias * age 13 1/2
*********
Costume
1st * Rebel & Fay
These are the only 3 events we
participated in this year, Sat. only due
to prior committments but as always
had a super time !!!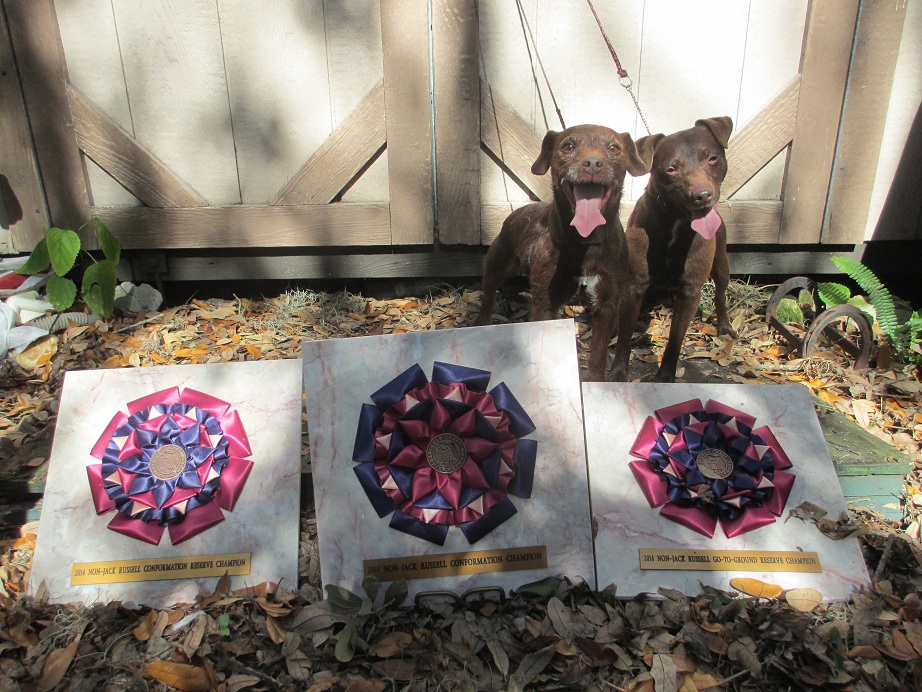 Omega * Conformation CH NJRT Son * Conformation Rs CH NJRT &
Rs CH NJRT Championship. Both dogs came to this win through
the Veteran's class, 1st & 2nd respectively. Thank you Heather for
these wins & recognizing their quality. Also thank you to Lisa
Mckinney for putting on this trial & John Tyno who judged GTG.
" Snooty Valet " * Fox Briar Rebel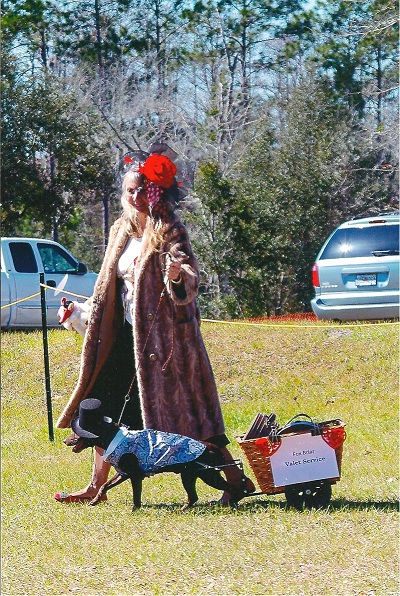 Rebel * The Valet *
Photo by Jen Miller
Thanks again for the great
photos Jen !!!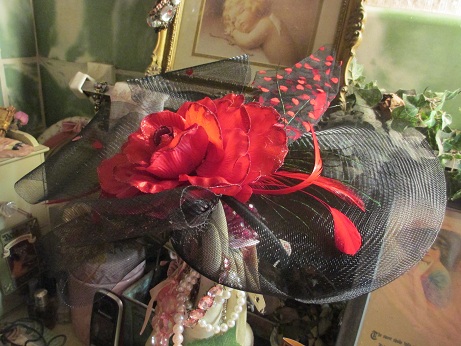 The "Fascinator "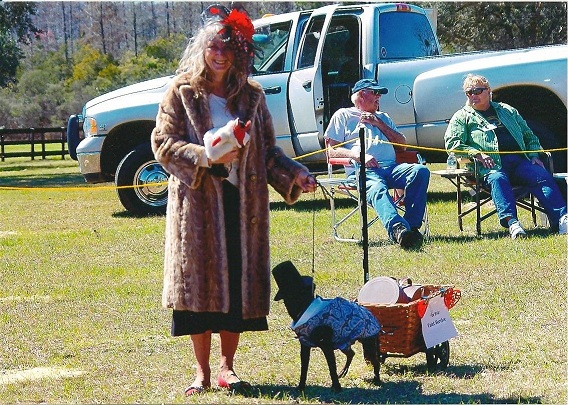 " That's Fascinating "
to quote Sandy Grimmel
*** 1st Place Costume Class ***
Fox Briar Rebel & Fay
*********
News 2013
UKC Top Ten
Conformation : Fox Briar Son * 4th place
( tie for 1st * Patterdales 1, 2 & 3 )
Den Dog Update
The DD Committee is continuing to work on the DD
program to meet the requirements set forth by UKC for
sanctioning. We are working through Earthworkers
Unlimited & recently issued Den Dog Certificates to
those who qualified for levels DDI - CH DD.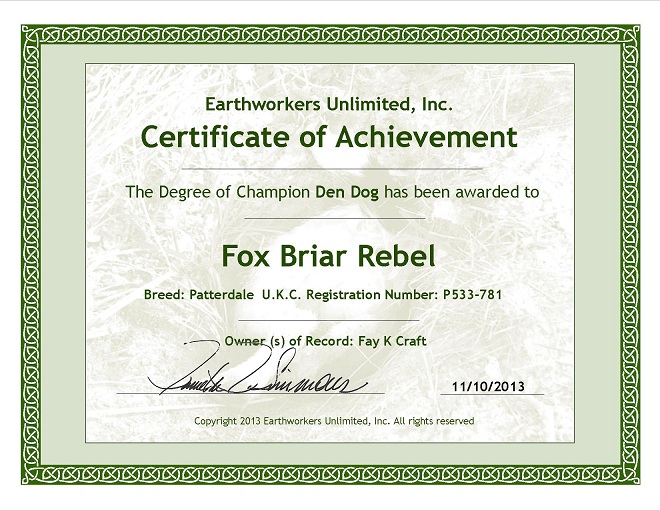 Fox Briar Rebel * the FIRST CH DD !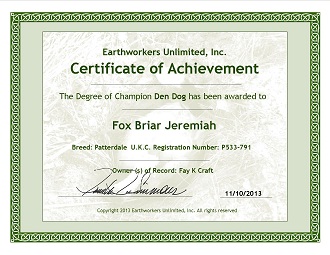 Followed by Jeremiah * The # 2 CH DD.
Congratulations guys !!! And a tremendous
thank you to Pam Simmons who designed &
issued these exquisite certificates for the program.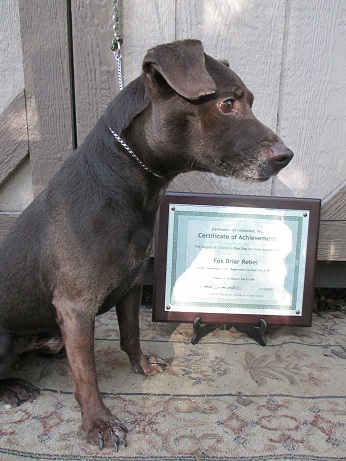 Fox Briar Rebel
CH DD ( non sanctioned ) age 9 1/2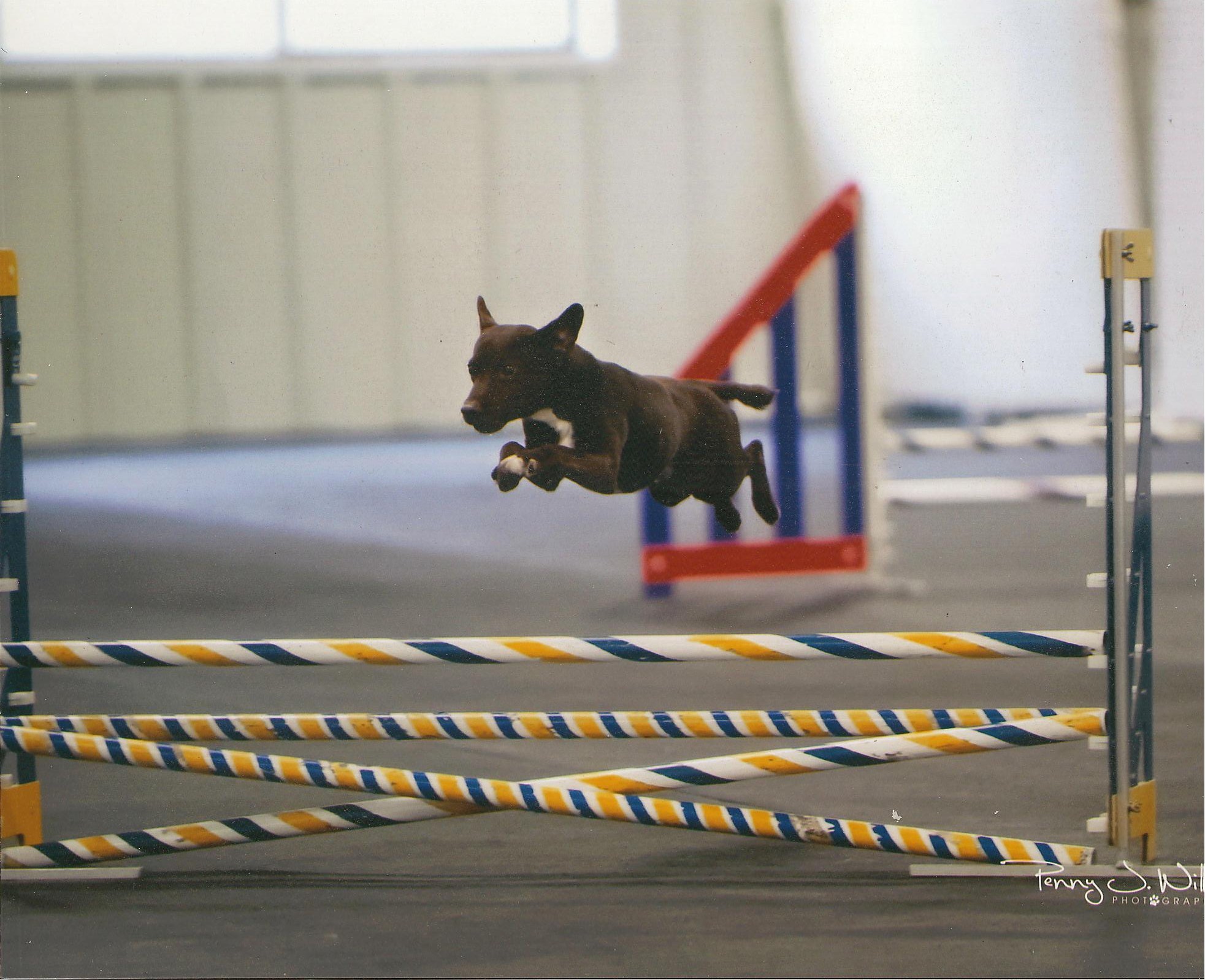 Fox Briar Valentino aka " Moochie " flying over an agility obstacle.
We recently heard from his owner, Bob Vierck, who said Moochie
is continuing his winning ways in Rally Odedience, in the MA area. He
is now competing in CPE agility, with four 1st place finishes ! To quote
Bob " thanks for a great dog ".... we couldn't agree with him more !
UKC Top Ten & Racing Allstars Awards for 2012
Top Ten : Fox Briar competitiors placed
# 2 # 3 & # 7 in Conformation
Racing Allstars : Fox Briar Jeremiah was
Ranked # 4 in Flats & # 6 in Steeples
We did not beginning competing for the 2012
season until Sept. so we were quite pleased to be able
to qualify for Premier 2013 in both
Conformation & Racing !
Hats off to all the Fox Briar Patterdales
who gave their all to achieve this honor !!!!
February was the GCTN 25th Anniversary Trial
This trial was held in Bronson FL.
We have been attending this trial
for 20 years & it has been our favorite competition.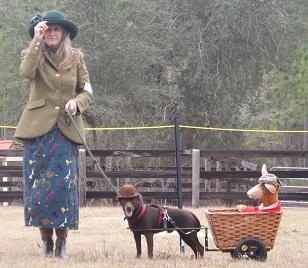 " A Proper British Lady & Her Wee Dog " *
Caption & Photo by Andrea Marshall
Fox Briar Rebel winning the Costume Class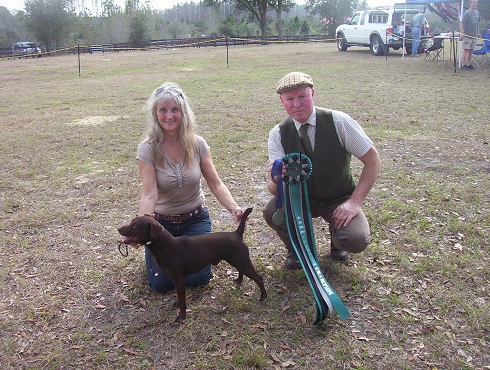 Rebel being awarded Best Colored Terrier by Judge Steve Parkins * Great Britian
This is the second year in a row Rebel has won this division * age 9
Rebel was also the NJR GTG Rs Ch. Unfortunately he was injured Sat. & unable to compete on Sun.
Badakhashan Tobias saved the day & won NJR GTG CH at age 12 1/2 !
WTG Tobias !!!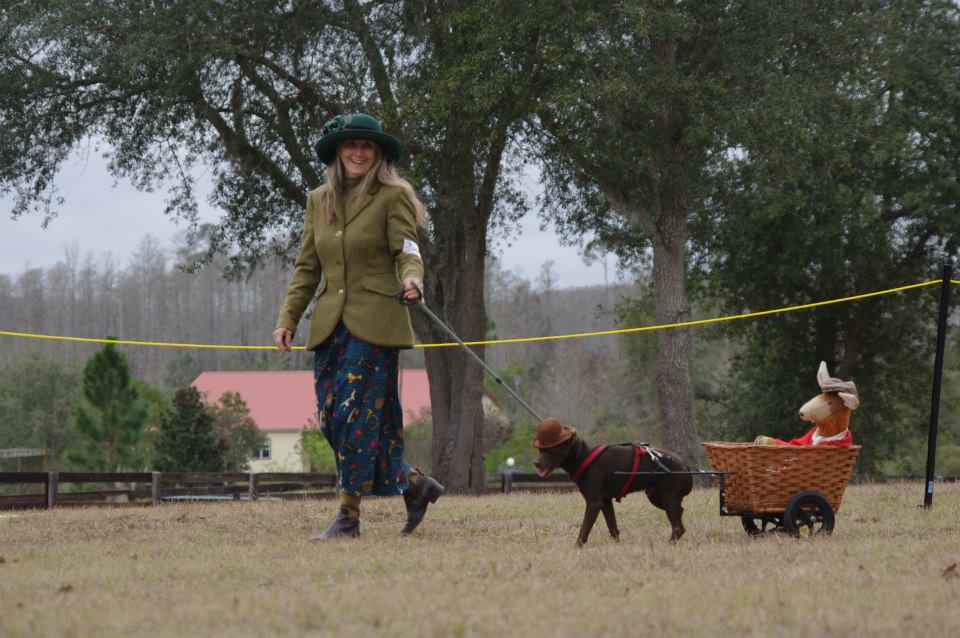 Photo by Jen Miller Thanks Jen !!!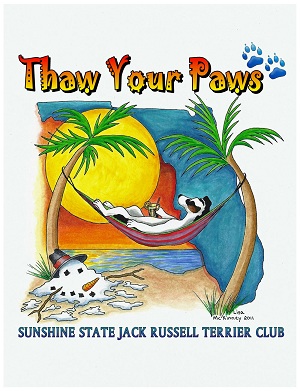 January found us in Ocala FL at the SSJRTC
Thaw your Paws Trial
Rebel & Tobias were again
our " Stars " for the weekend.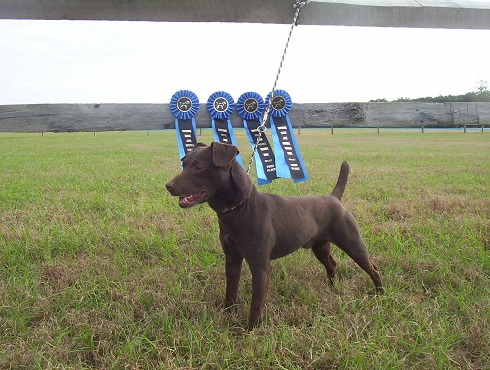 Rebel * age 8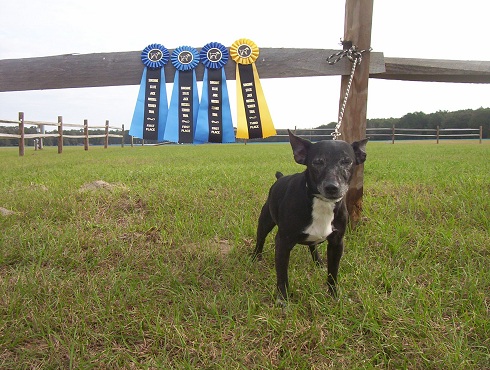 Tobias * age 12 1/2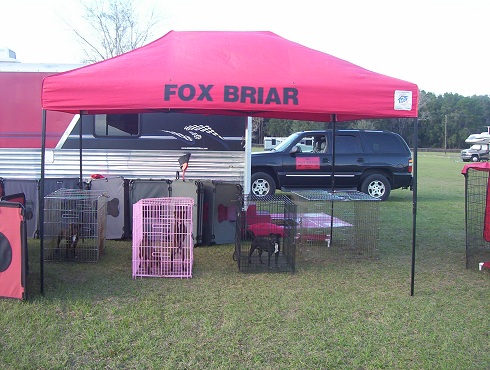 Fox Briar Patterdales
News 2012
* * *
Our last " adventure " for 2012 ......
Deja ' vue *** Museum of Appalachia *** TN
December 2012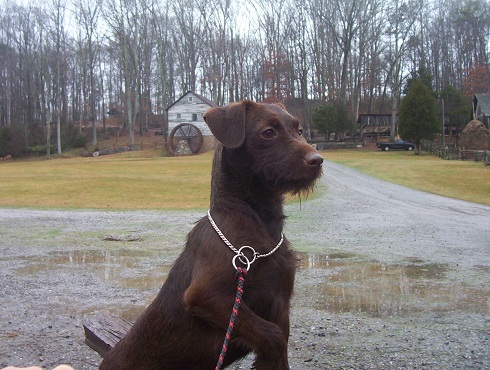 2012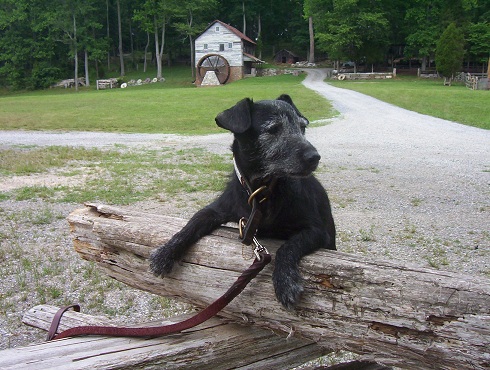 2007
We traveled to Richmond KY
for our last UKC show of 2012.
Tarjac's Omega of Fox Briar
finished 2nd place in Top Ten
with her wins in Richmond KY.
Russell Mania * Nov. 5 2012
Williston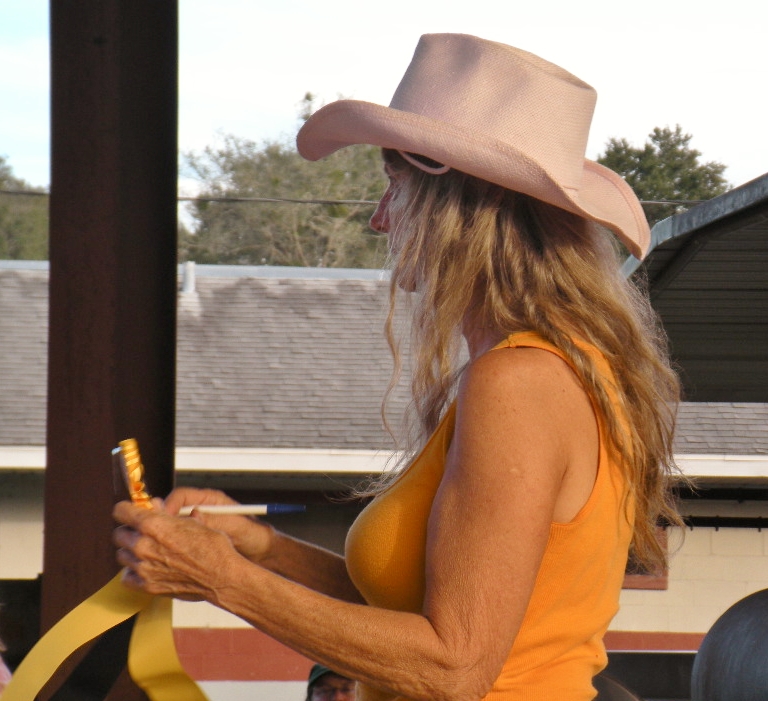 Accepting Rosie's 3rd place Lure Coursing ribbon.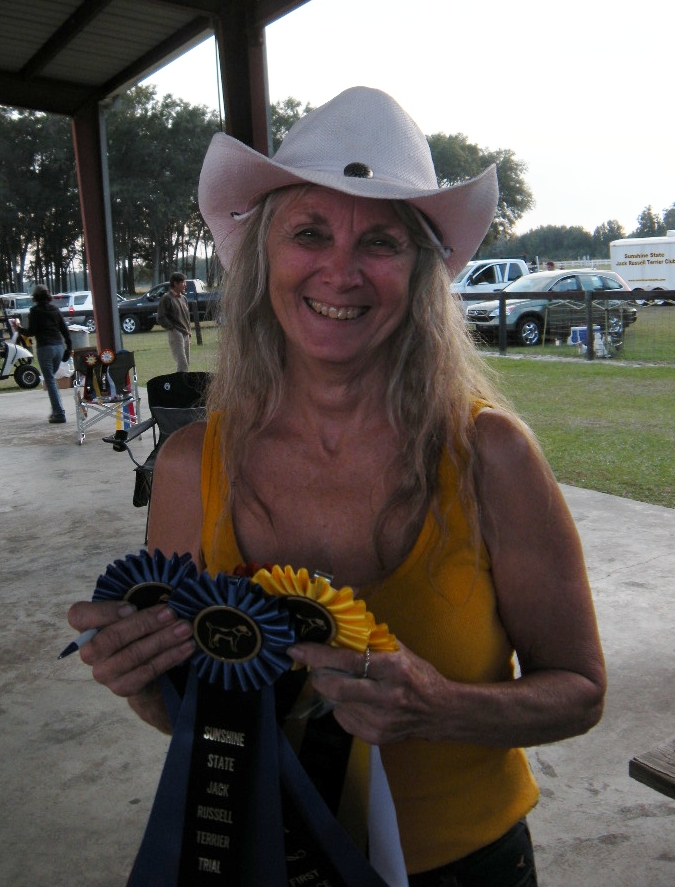 Our ribbons for Lure Coursing & Thunder Tunnel.
As usual Rebel was our star winning 1st in Lure Coursing & Thunder Tunnel !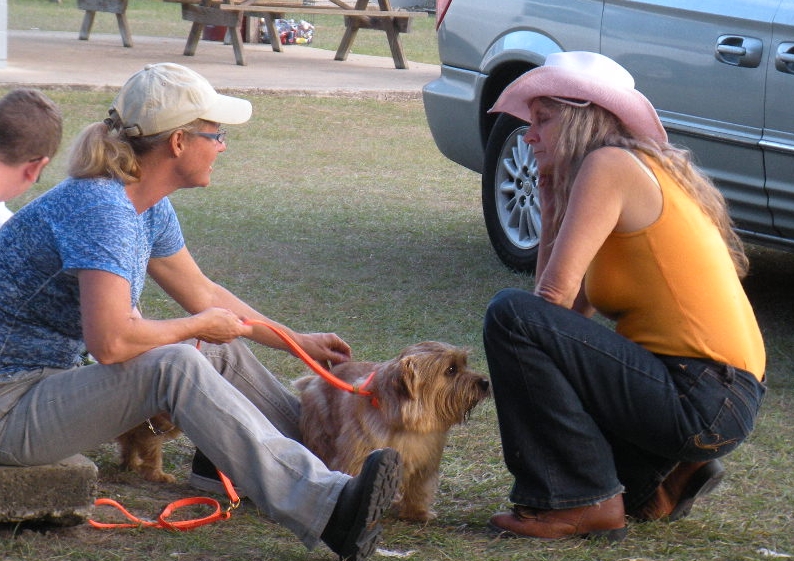 Meeting one of Tropical Storm Kennel's Norfolk Terriers !
It was nice to meet my Facebook friend Pete Stubbs,from NC.
Thanks for the pictures Pete !!!
* * * * *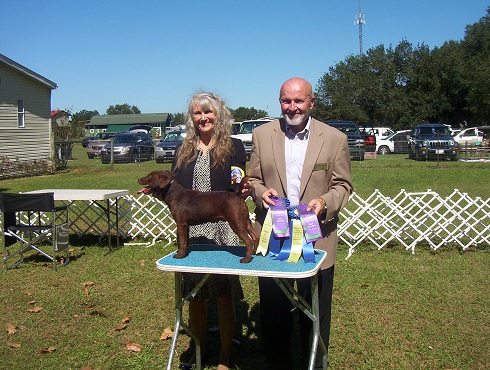 Tarjac's Omega of Fox Briar
BOB * Show I & Show II 10/20
BOB * Show I 10/21
Pictured with Judge James Coleman.
Hanging out ......waiting for the next show !
Happy Halloween !!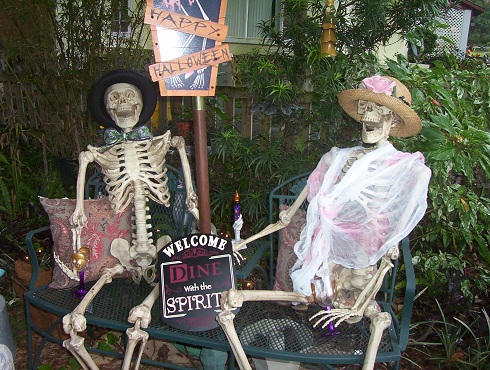 Terrier Splash 9-22-12
Zephyrhills FL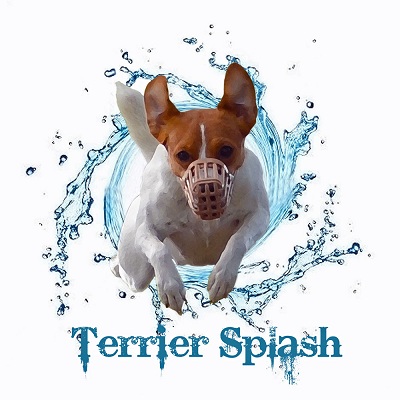 Terrier Splash was a blast !!!!
Our Tobias was HI POINT Champion
of the day ! We are so proud of our boy !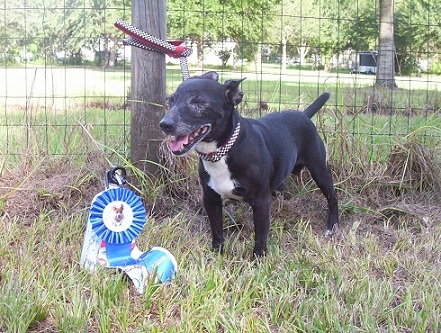 Tobias age 12.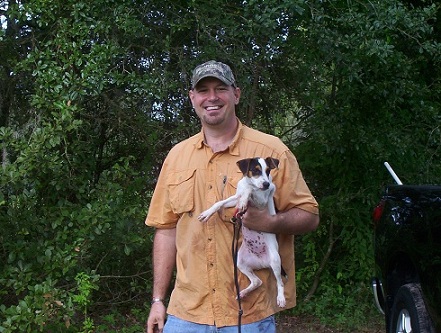 My friend, the infamous Justin Caynor, is now
a Patterdale owner.Justin breeds Jack Russells
under the Qick Fire kennel name.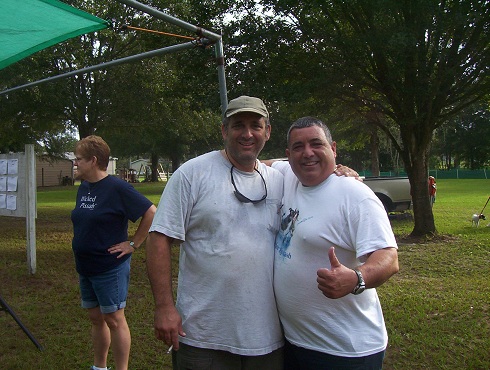 Mike DiBernardo, owner of DiBo's Den, where the
Splash was held & Hugo Noa. Mike thanks for the
use of your little Honda....the AC was great !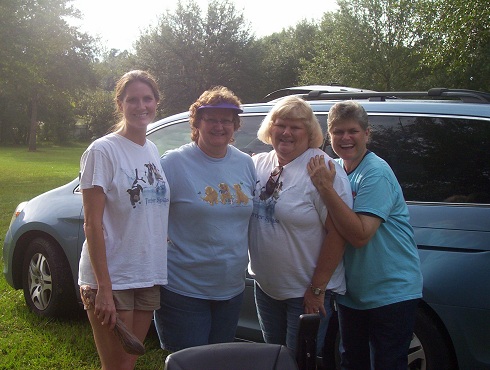 The girls : Lorrie, Donna, Karen * Di Bo's Den &
PJ, taking a break from the action !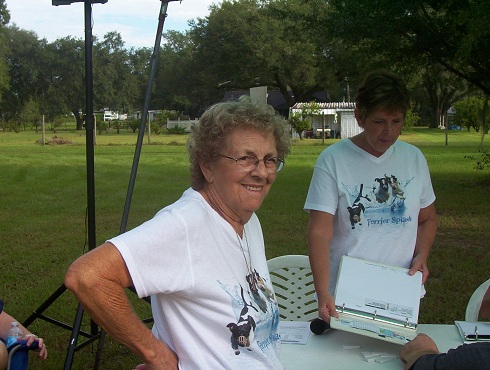 Pauline Fawkes * Matriarch of the GCTN !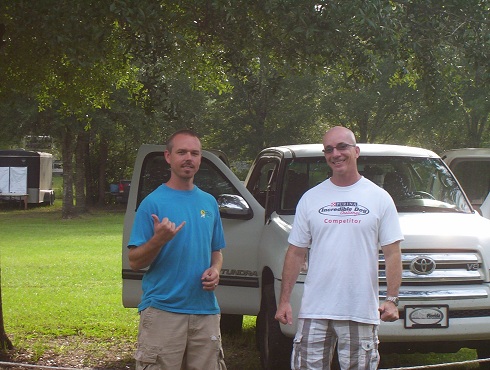 Jason Jones * Treas. * Rick Bailey * Pres. SSJRTC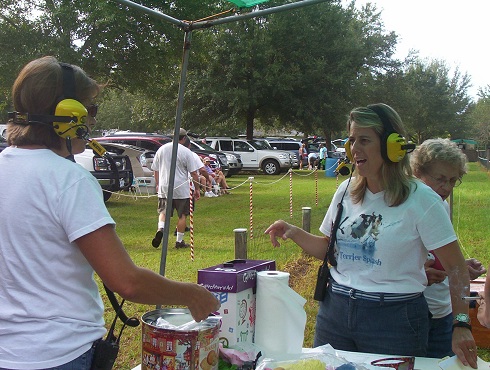 My old friends Frannie Shiver & Zoila Lawrence
manning the headsets for racing.Thank you Frannie
for putting on this great trial !!!!
****
GCTN / SSJRTC Membership Day
Umatilla FL

Fox Briar had a sucessful day at the recent Membership meet !
Racing: Flats & Steeples * 4 Firsts
4 Seconds
Lure Coursing * 1 First
1 Second
We also qualified in GTG & Super Earth.
We completed Brush Hunt with a 2 second over time score.
The events were all fun events ; no ribbons were awarded.
Lunch was cooked by our host Todd Smith ! Great burgers Todd !!!
Photos to be posted soon !
****
MGKC & FSC Shows
Perry, GA
Sept. 2012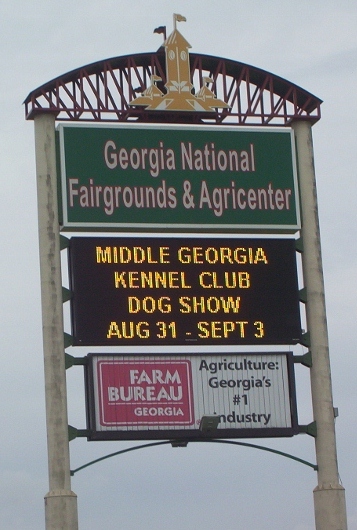 Fox Briar Rebel Son
BOB & GP 4 * MGKC * Show I
BOB & GP 4 * FSC * Show II
*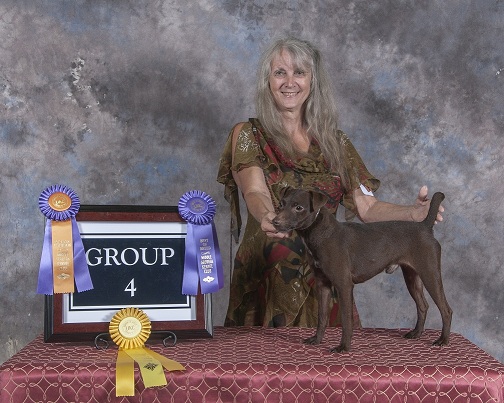 Fox Briar Rebel Son
The Perry Ga show was a great success ! Fox Briar
came home with several new titles :
Fox Briar Jeremiah * UFCH
USCH
DD I ( provisional )
DD II
Fox Briar Rebel DD I
DD II
Fox Briar Rebel Son DD I
DD II
Badakhashan Beauregard DD I
DD II
Badakhashan Bronwyn DD I
DD II
Badakhahsan Tobias DD I
DD II
Scenes from Perry......the Party, Den Dog, Racing, Carting !!!!
Jeremiah
Rebel in DD

John June Jason at the party !

.

Party
Rebel * Carting
Photos by Richard Hunter * Hunters Run Action Photos * NC
Richard & his wife Chris were also the DD judges for the Perry weekend !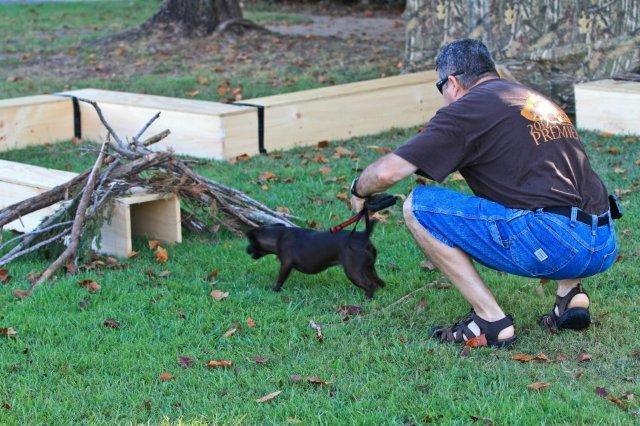 Tinker Toy running the DD level II Tunnel
Den Dog video by Kathy Jones of her AHT Carsten !
Den Dog II Day 9-2-12 Perry GA Carst
* Happy Fourth of July *
from Fay & the Fox Briar Patterdales
Leesburg Lightning Bark in the Park
June 2012
Pat Thomas Stadium literally " went to the dogs " !
Lightning Fans were encouraged to bring their dog
to this special Promotional night which included dog
related vendors & gifts for the dogs.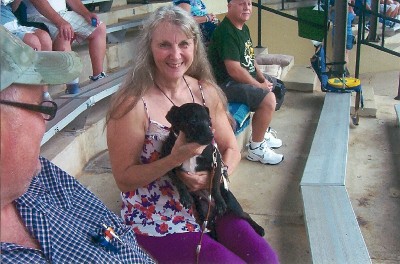 Fay & Bronwyn enjoying the game !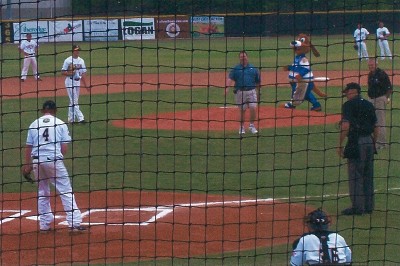 Dr. Richard " Bailey " Clark threw out the first pitch !
Dr. Clark owns Northgate Animal Hospital in Leesburg.
Play Ball !
Premier 2012
Tarjac's Tinker Toy of Fox Briar & owner
Bill Scaria of Cumming, GA shown with Premier wins.
Tinker participated at Premier in Top Ten, Racing,
Lure coursing & Conformation at Kalamazoo,MI.
She placed in several events , including earning her 1st
leg for her CAT ( lurecoursing ).
Congratulations Tinker !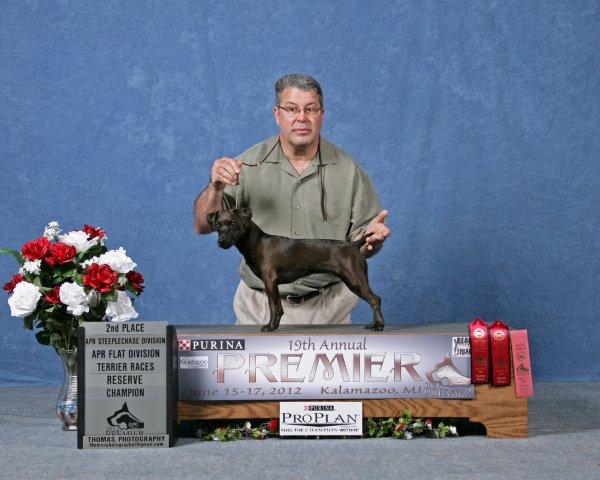 Go to the Premier button for more Premier 2012 photos.
UKC Den Dog
The UKC has granted the Den Dog
Program Provisional status.The events
will be scheduled through Dogspeed UKC
Club. Richard Hunter will be the contact
person for all Den Dog events in the US.
Contact Richard via email at :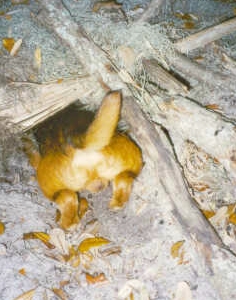 **************************************************************
Dogwood JRT Club Fun Day * GA * April 28 2012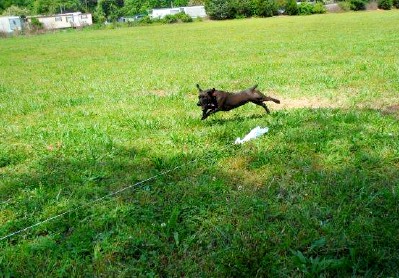 Tink Flat out on the Lure !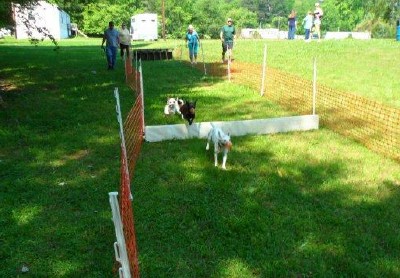 Perfect form over the hurdles !
Smokey Mt. Show * TN
Tink * 4 BOB *
Gp I * Show I
Gp II * Show II
North Carolina Classic Show
Tinker * 3 BOB *
Tarjac's Tinker Toy of Fox Briar
with her NEW owner Bill Scaria
of Cumming GA.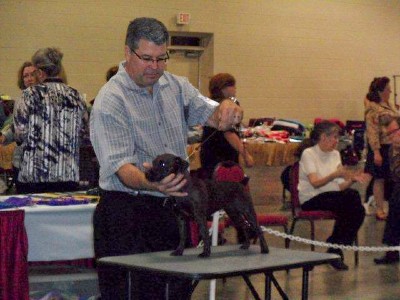 Tinker showing a nice classic outline on the table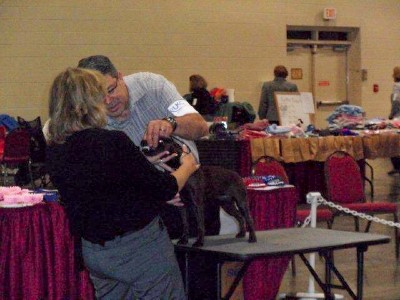 Showing her bite to Helena.....what a great Patterdale bite !
( Conformation Judge Helena Engelauf )
Fox Briar Valentino continues to make news !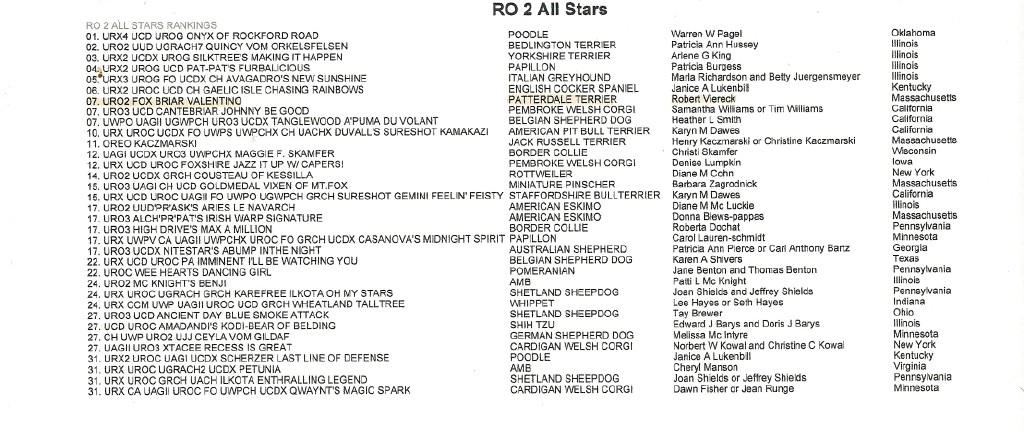 " Moochie " is currently ranked 7th out of 51 dogs in UKC Rally level 2.
Congratulations Bob on your accomplishments & thanks for the up date !
Proud as a peacock...of these two boys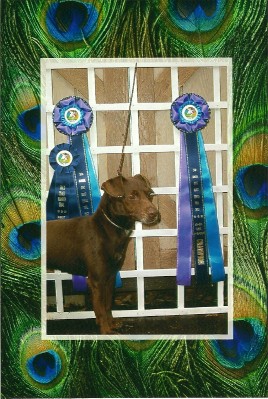 Rebel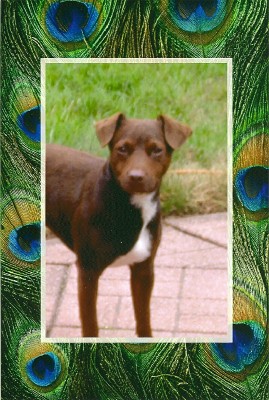 Moochie
Congratulations to
Fox Briar Valentino
We received word from Bob,that while brother
Rebel was competing in Fl, the same weekend,
Valentino ( Moochie ) was competing in Rally
in MA .Valentino was awarded his UKC Rally
I & his UKC Rally II title there ! He again
obtained scores of 96 % & 100 % to qualify
for these titles.To our knowledge,Valentino is the
first Patterdale on the East Coast to be awarded
a Rally I/Rally II title by UKC. Valentino was also
HIGH IN TRIAL in the February 26, Trial II with a
top score of 100 % !
He's Baaack !!!!!
Fox Briar Rebel was awarded
CH Non Jack Russell Terrier
&
CH GTG Non Jack Russell Terrier
at the GCTN Trial * Bronson FL
Feb.25, 2012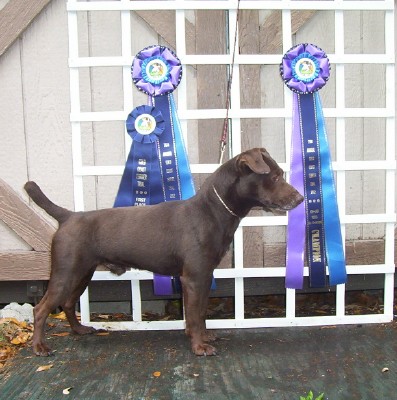 Winning from the Veteran class,Rebel went on to
take the overall Championship in Conformation,
followed by the Champion win in Go To Ground !
Rebel was retired from competition in 2010 but
was brought out of retirement to compete Saturday
at the 24th annual GCTN Trial.
Thank you to judge Lyn Harber * Wales * UK
for bestowing this win on our Rebel.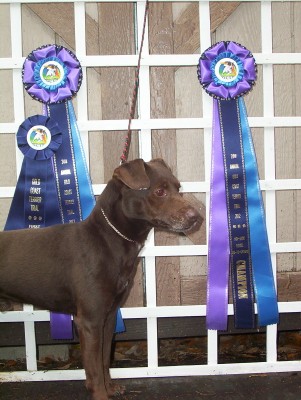 Rebel age 8 pictured with his CH awards.
* * *
Badakhashan Tobias * age 11 * was RS CH GTG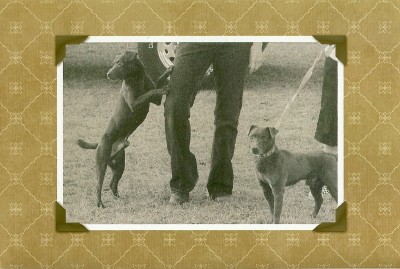 Thank you to Jenny Miller,GA, who provided us with all
the photos from GCTN Trial. We have taken the liberty
of enhancing them with borders & special effects to create
this Vintage style photo of Rebel (L) & his sire Shamus (R),
as well as others on the pages of this site !
Happy Valentine's Day
&
Happy 8th Birthday
Rebel !
Perry GA Show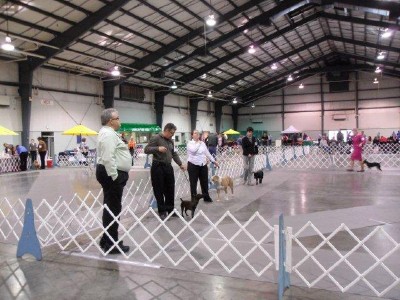 Tinker in the ring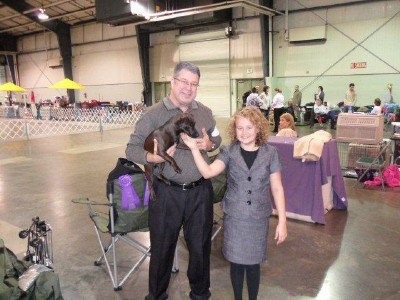 Meeting up with an old friend :
Billie Green,Jr.Handler & Tin
This " Spring " weather has us sprucing things up
around the kennel ! And of course the Patterdales
want to lend a helping hand !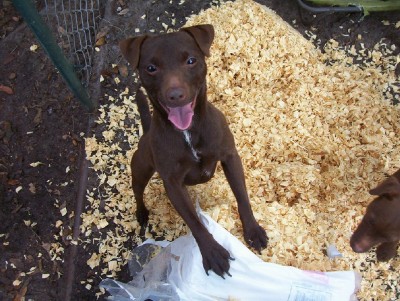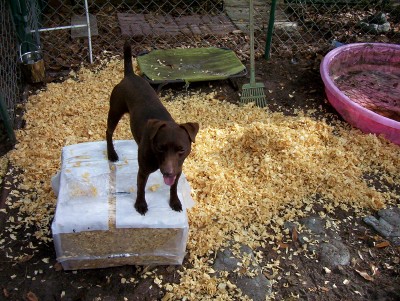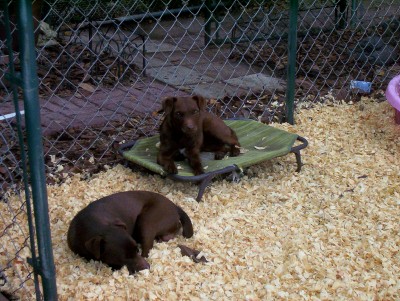 And now we are all tuckered out !
News * 2011
News Flash !!
Fox Briar Valentino ( Moochie ) recently earned 1st
place in Rally Obedience at the MA DOGS show !
Moochie had a perfect 100% score to earn this win.
He also scored 96 % in show I to earn a qualifying
leg on his RO title,for a total of two.
Congratulations to Bob Vierck & Moochie on this
great accomplishment ! We are so proud of you both !
We look forward to Moochie earning his title !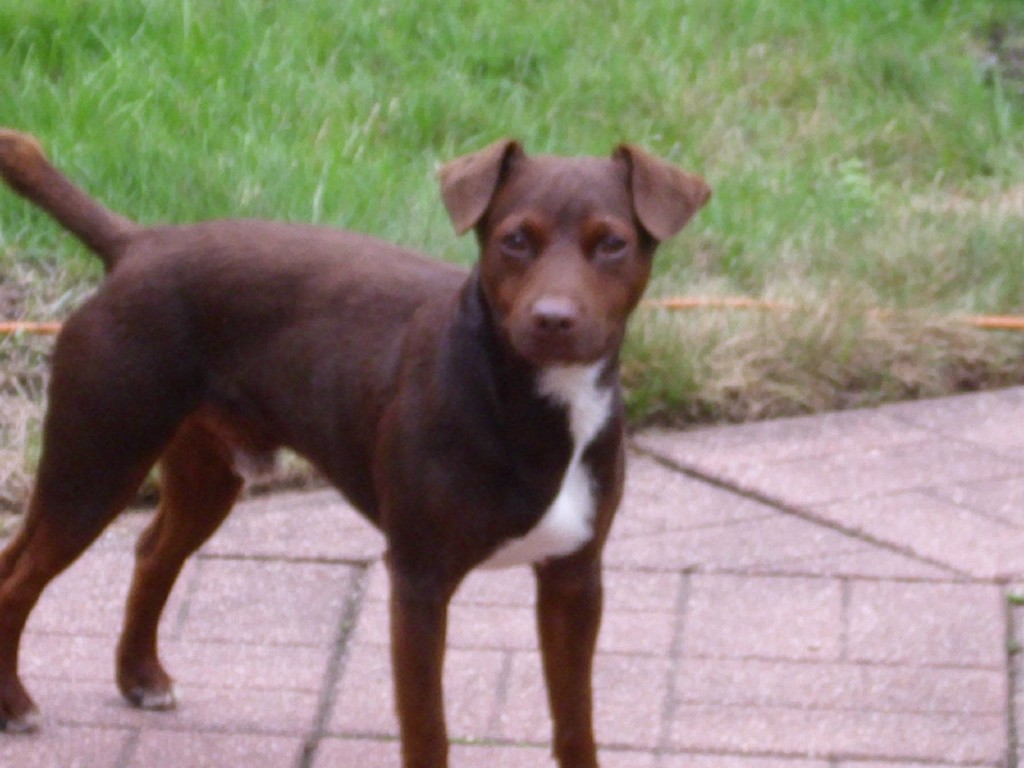 " Moochie "
October 8th we participated in the SSJRTC Fun Day.
Tinker & Rebel were the lucky ones chosen to
participate.Lure Coursing had to be cancelled due to
the heavy rainfall but they were able to "play " in GTG,
Brush Hunt & Racing.Tinker had a very good time in
GTG & had there been awards,would have had a 1st
place.Rebel,as usual had a great time in GTG & Super
Earth,with a 2nd place time in both,being beat out by
the newest member of the Veteran's group,JRT Jumper
Dog !!!
We enjoyed a nice Potluck lunch & the company of
terrier friends,in spite of the damp conditions !
We have been unable to participate in any
competitions recently due to family illness.Hence
there are no show result updates to be listed.We
hope to return to competition in the Fall.
Our last sanctioned show attended was Feb.
2011.
Show result updates will be posted on the Trial/Show
Results page bi annually for ease in reporting.
UKC Premier 2011
Beau congratulates his progeny for their Conformation
wins as well as their Total Dog wins at Premier !
Top Ten BOB
CMC's Tara the Terror of Oakleaf
UKC BOB ( 2 )
5 Star Vntg History in the Makin'
We were unable to attend Premier this year due to
family obligations but Fox Briar blood was represented
by Tara & Party.Tara was bred by CMC & Party by 5 Star
These two bitches trace back to Beau through their sire
or dam ( Beau being the gr gr grandsire ).
We are so pleased that Beau blood will live on through
these outstanding representatives of the Patterdale
breed !!!!
UKC Den Dog Program *
Anyone interested in competing in GTG with their dogs can contact us
for information regarding the program.A committee was recently
formed to establish a program to submit to UKC for consideration.
The committee is comprised of :
Fay Craft UKC DD Program Chairman * developer of the PTCA
Certificate of Gameness program & PTCA certified working judge *
ADBA GTG Program Consultant *
FL
Ann Wendland * AWTA AKC Earthdog Judge AKC Beagle &
Dachshund Field Trial judge *
CA
Yvonne Moore * AWTA UKC Earthdog judge & chaired committee
for the UKC Earthdog program.Was a UKC ED judge.Is a Trustee for
AWTA.Was a JRTCA GTG judge *
KY
Sally Yancey * AWTA AKC Earthdog judge * an AKC Conformation
judge & prior UKC Conformation judge. *
NC
Richard Hunter * UKC Racing judge & has judged JRTCA GTG
events *
NC
Chris Hunter * AKC Earthdog judge *
NC
The committee welcomes any input or questions concering this
proposed UKC program.
Email concerns to : Fay Craft * foxbriarfells @aol.com
SSJRTC Fun Day *
We had a great time,as usual, at the SSJRTC Fun Day
June 11th.Thank you for the great prizes !!! Tobias was
the star of the day for us,winning his GTG division.His
kennelmates placed well in their divisions also & as they
say " a great time was had by all " !!!!
Beau.. you are the greatest !!!!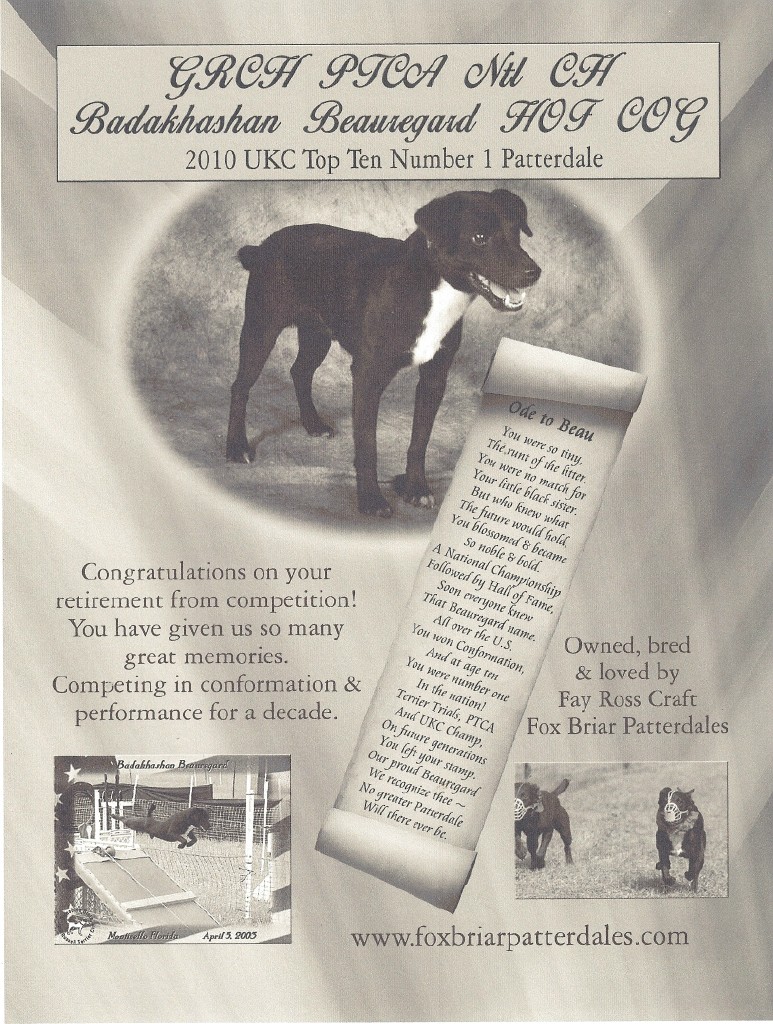 Dog World recently featured articles
of interest to dog owners & terrier
owners.Shown below is the Dog Mural
in Dunedin FL.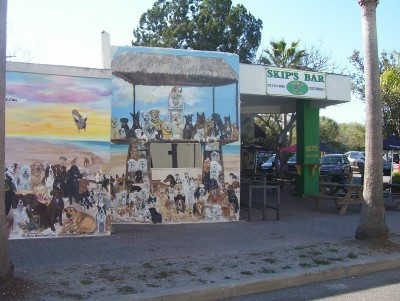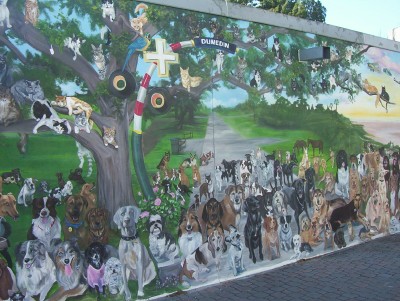 We really enjoyed the exhibit in this very
dog friendly town !
Our Rebel is depicted in the article, Big Sports for Little
Dogs, racing at Premier 2010 ( pg 38 April 2011 issue
of DOG WORLD magazine ).
Rebel is on the left.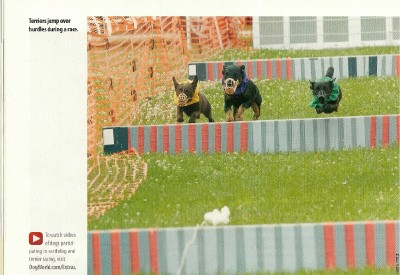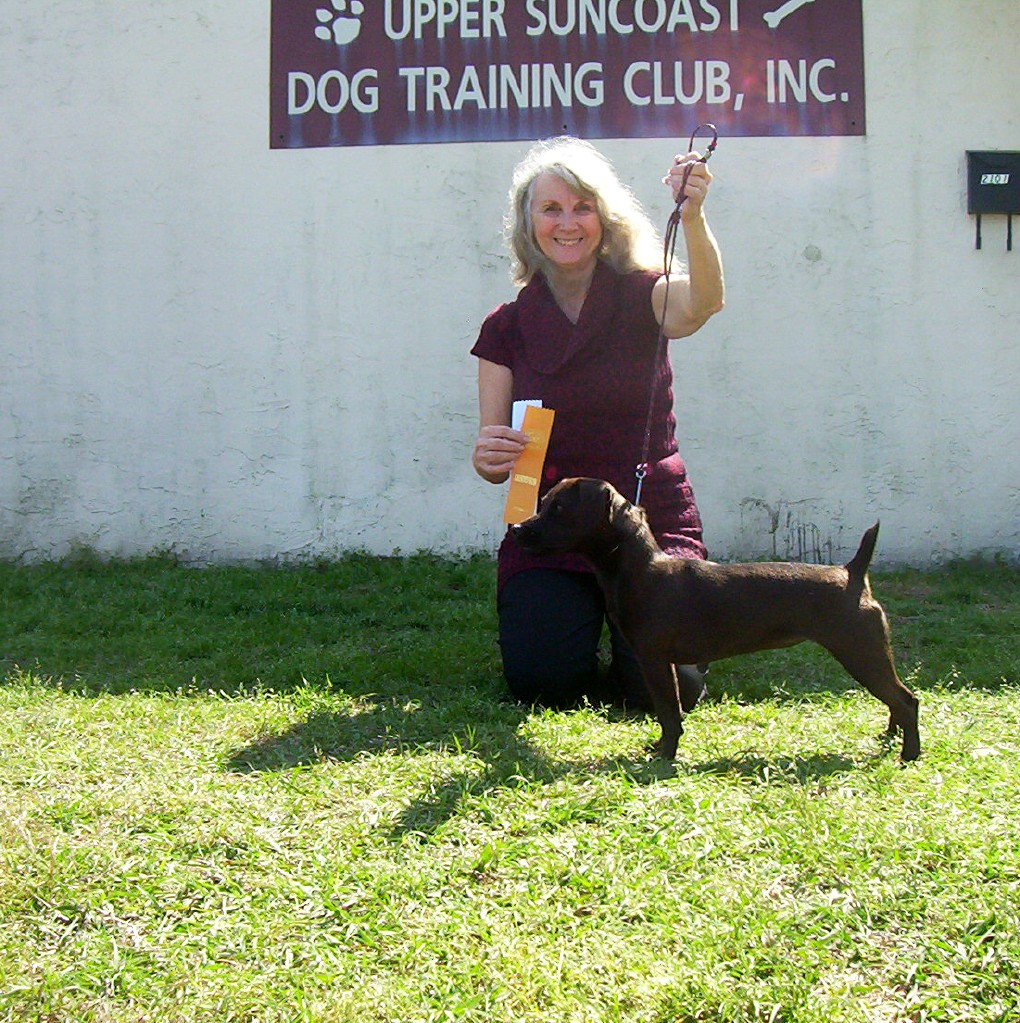 New Champion Tarjac's Tinker Toy of Fox Briar * FSHA * BOB
Show I & Show II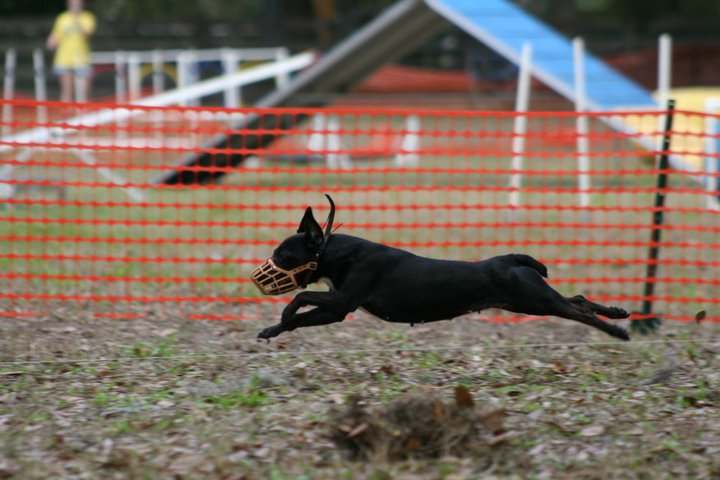 Bronwyn Lure Coursing @ HAATA Racing Fun Runs.
Thanks Christi for this great picture !
We were suprised to see what great form she still has as an aged dog !
It's Official..the results are in for the UKC 2010 year !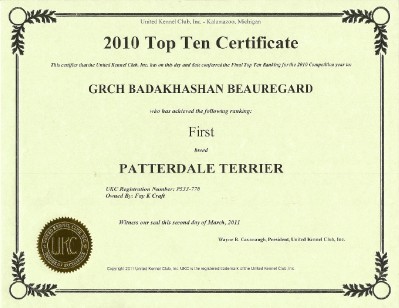 Fox Briar Results
TOP TEN Conformation
Number 1 GRCH Badakhashan Beauregard
Number 4 GRCH Fox Briar Rebel Son
RACING ALL STARS
Flats Open 10 -12.5
Number 1 USCH UFCH Badakhashan Tobias
Number 3 UFR Fox Brair Rebel Son
Flats Open 12.5 - 15
Number 1 USCH UFCH Fox Briar Rebel
Steeples Open 10 -12.5
Number 1 USCH UFCH Badakhashan Tobias
Steeples Open 12.5 - 15
Number 1 USCH UFCH Fox Briar Rebel
News 2010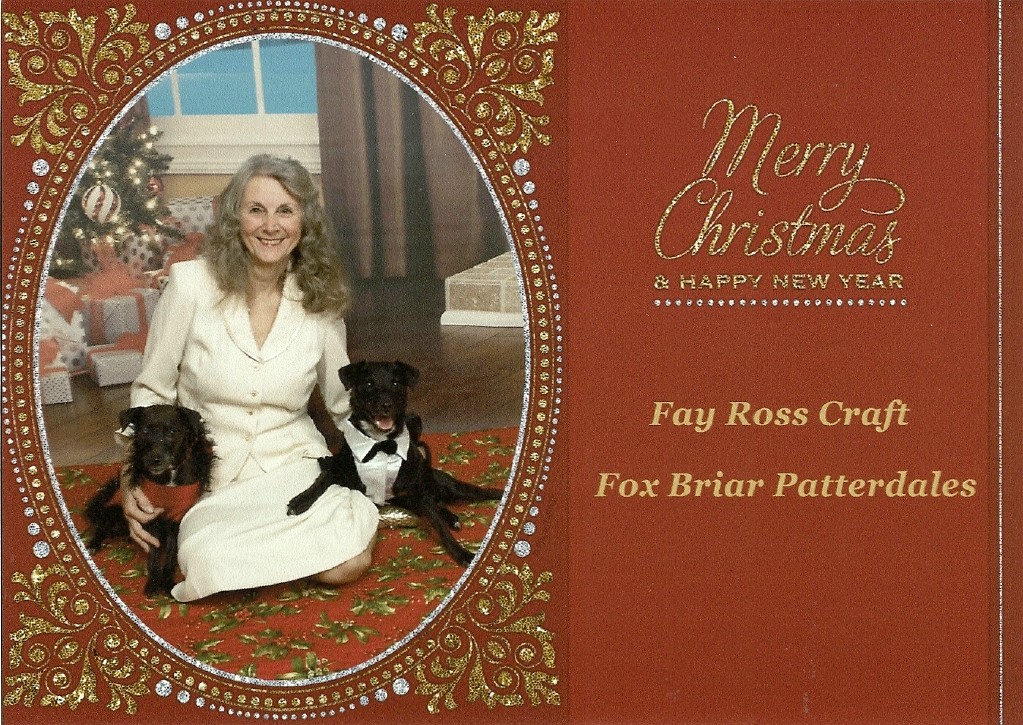 UKC Racing Champions
Fox Briar Patterdales are the first two
Patterdales in the UKC to earn their
USCH & UFCH titles !
We are so proud of our boys !!!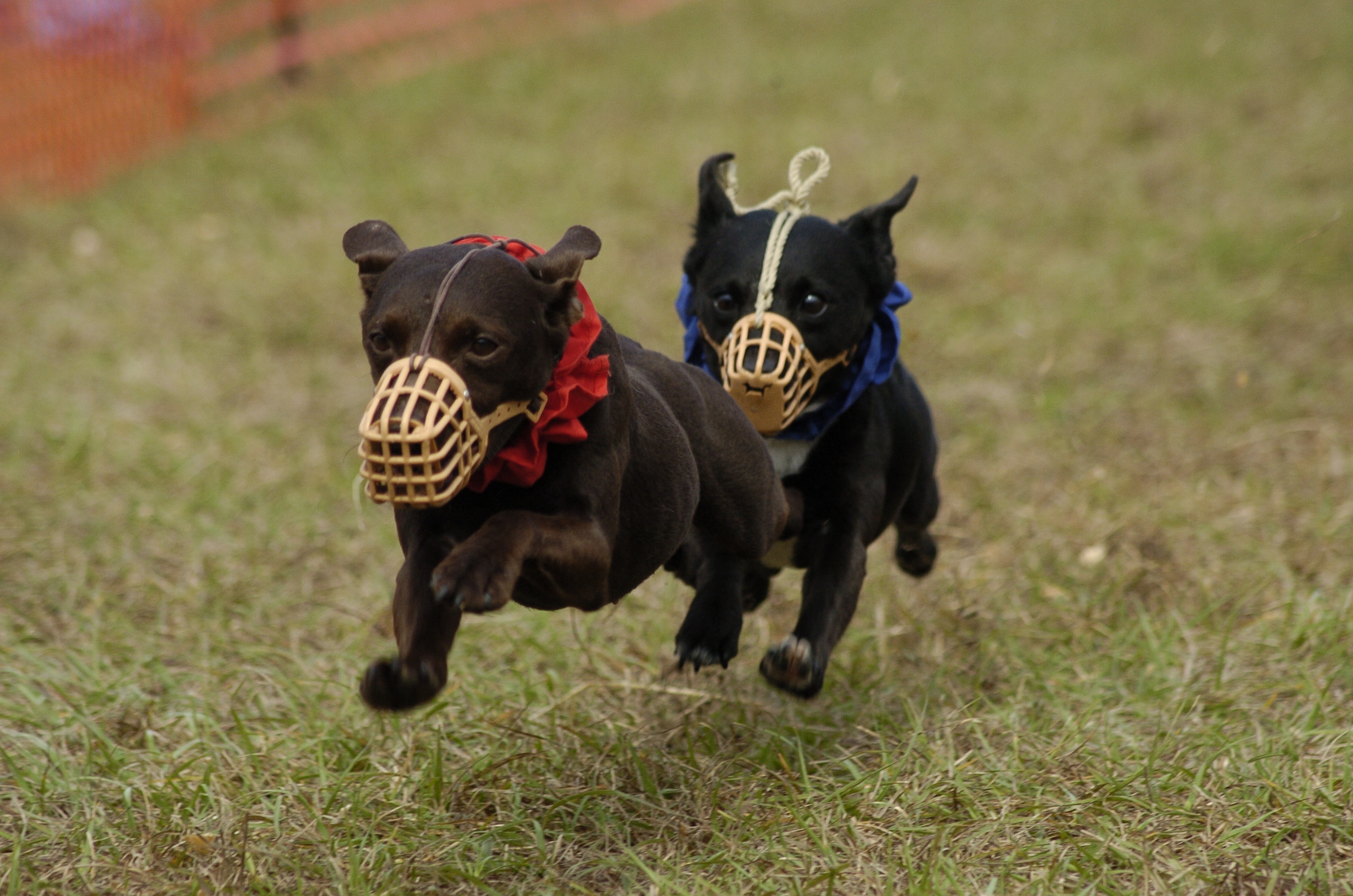 Fox Briar Rebel
USCH * UFCH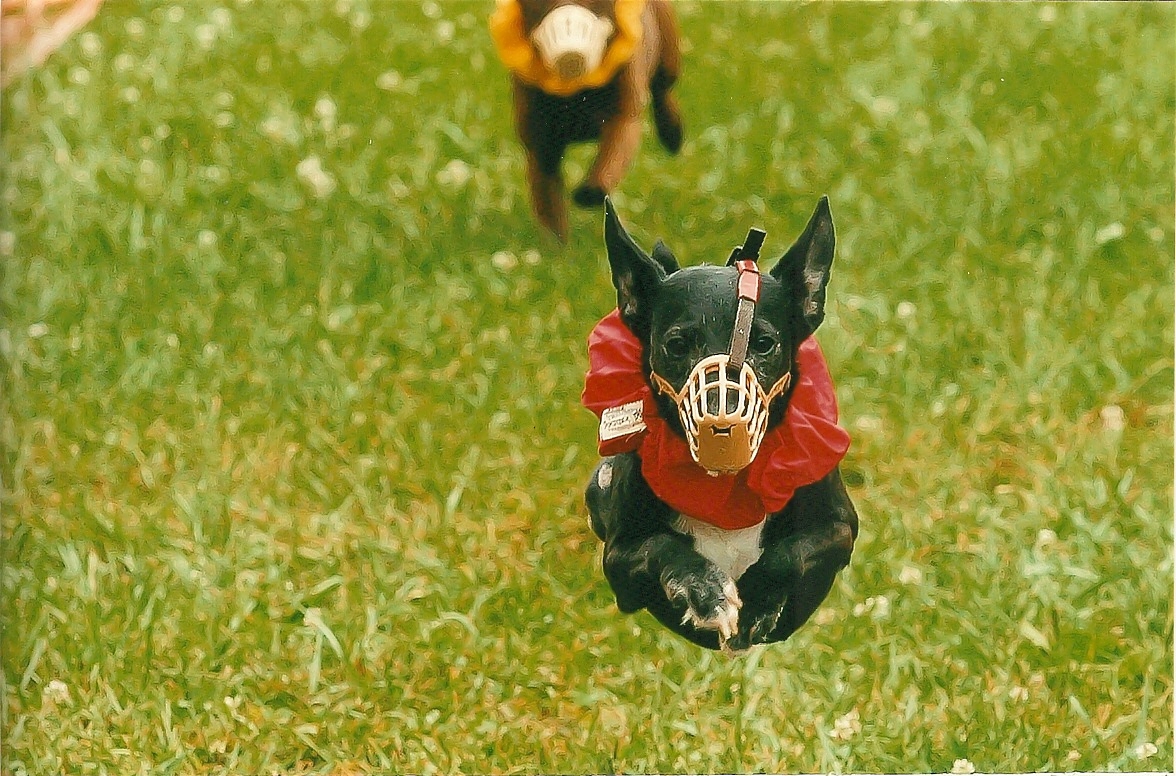 Badakhashan Tobias
USCH * UFCH
**********
Gold Coast * Sunshine State Membership Day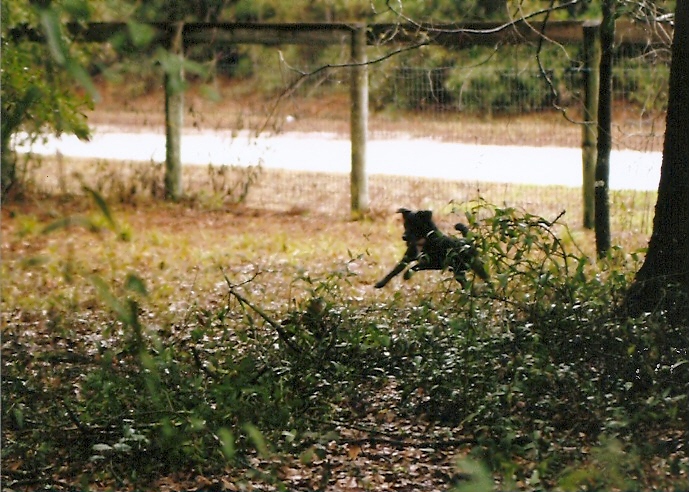 Photo from prior event
This was a joint fun day held in Sept.
Beau again had an amazing time in the Brush
Hunt ***4.2 seconds to locate & mark quarry !
Thank you to Al Lackner for the delicious lunch !
The food was provided by the clubs & Al,a joint
club member, was the chef for the day.
The event was a great chance to practice & socialize.
**********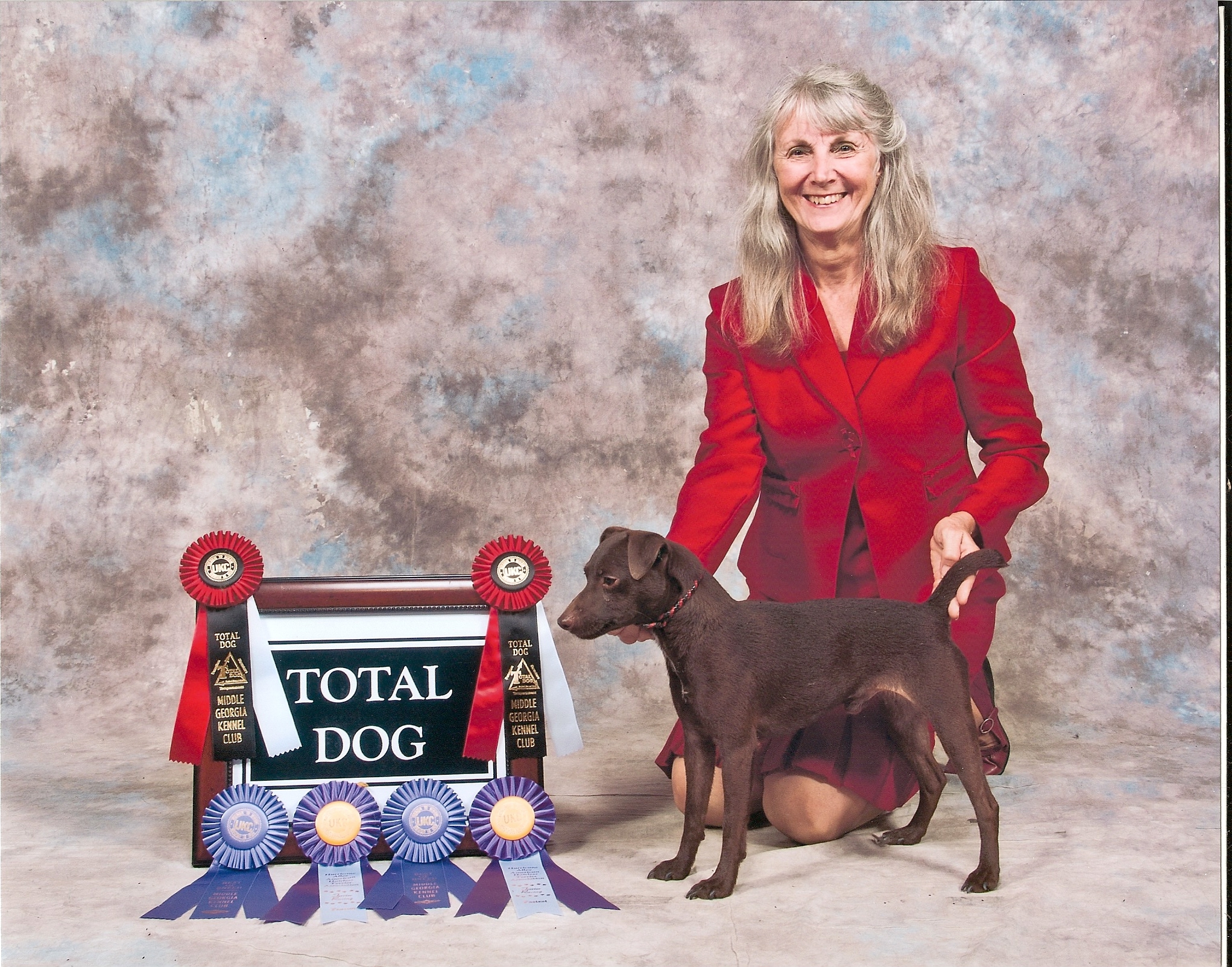 Son earns two more Total Dog Awards * Perry GA
Son was BOB & Fastest in Racing * Sept. 2010
at the Middle GA Kennel Club show.
Giving our support to
a terrier friend in need.
The Trulock's Support Terrier Day
was held in Lady Lake FL as a benefit
trial for one of our fellow terrier persons
who is afflicted with cancer.
The day consisted of racing, go to ground
brush hunt & lurecousing. We finished up
with a great cook out prepared by our out-
standing chef Glen Holland !
Here are some candid photos from the trial.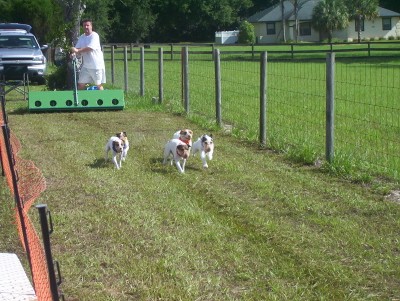 Racing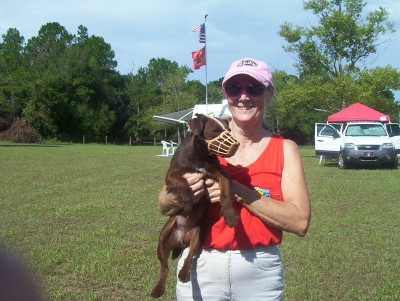 Omega ready to race !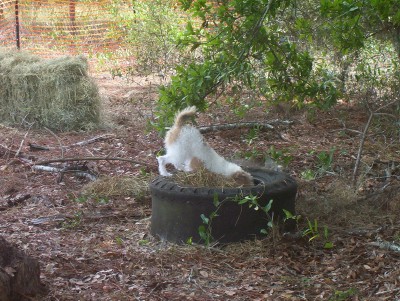 Brush Hunt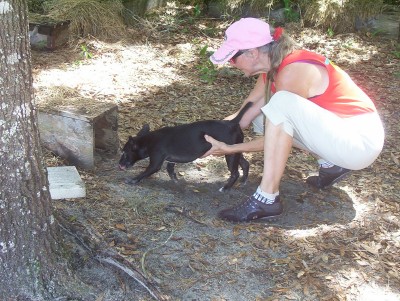 Tobias at the GTG
( Note : Simulation * In actual GTG Competition
terrier is released at a line 2 ft from the tunnel.)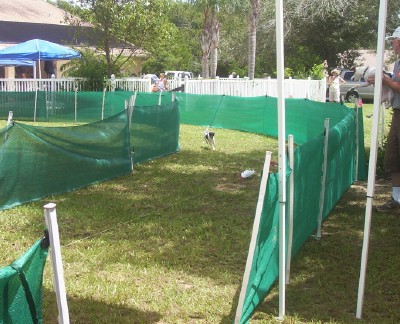 Lure Coursing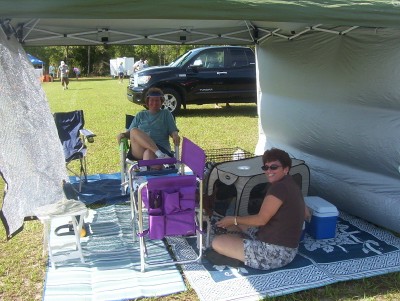 Donna & Kathy keeping cool !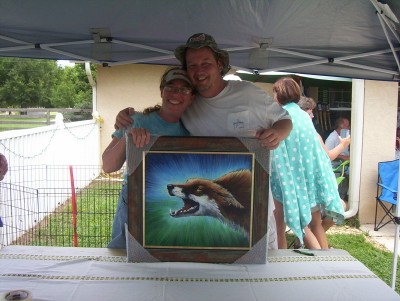 Raffle *
Artist Lisa Mckinney donated her work.
Don Ahrens was the lucky recipient !
The Jack Russells,Patterdales & Rat
Terriers all competed together. It was
great competition! Beau won the Brush
Hunt in his division with a time of 9.32
seconds to locate quarry.Tinkie took to
the GTG & scored a 3.03 to earn 2nd
in her first competition.
This was a great trial for a very worthy
cause.